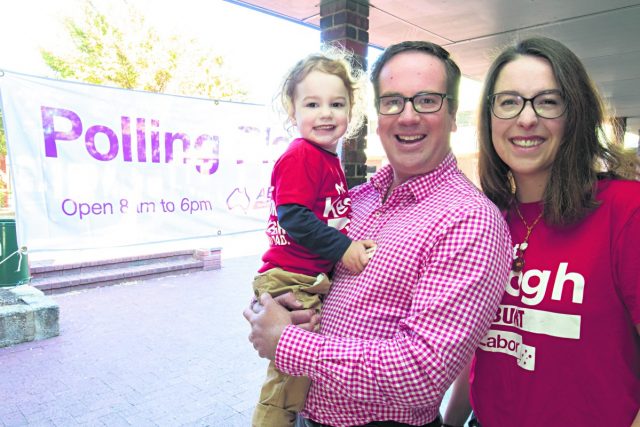 Member for Burt Matt Keogh has set the record straight by insisting he doesn't intend on going anywhere amid speculation surrounding the future of his seat. 
Last week the country's independent statistical agency released the latest population figures, which revealed a decrease in WA sufficient enough to cost it a seat at the next federal election. 
Media coverage of the changes implied that the seat lost would be Burt, just four years after it was established in recognition of the growing number of residents in Perth's south-east metropolitan area. 
But Mr Keogh told Examiner Newspapers it was unlikely that the 172 square-kilometre electorate would be abolished and that the outpouring of community concern emphasised just how much its 105,000 electors valued representation at a national level.
"It's unfortunate to see this inaccurate reporting because it really heightens anxiety," he said. 
"Since it was reported, we've been inundated with messages from people concerned that the seat would be lost. 
"I think it demonstrates that the community is happy and believes that they're well-represented, but it also emphasises how much the community values having its own voice in national parliament. 
"There are really important benefits in this community being able to maintain that distinct voice. 
"The growth that we've seen in this area over the last decade, even just the last five years, justified this electorate being established.
"I'm confident that it won't be Burt, but it's always disappointing to see WA's representation reduced.
"I'm honoured to represent this community and intend to continue fighting for this community for as long as my constituents will have me." 
The City of Armadale wrote to the Australian Electoral Commission to outline its support for the creation of the seat of Burt back in 2015, and mayor Ruth Butterfield said its position had not changed. 
Since the federal seat of Burt was established in 2016, Mrs Butterfield said strong working relationships had been fostered between the city and its elected federal members, and to the betterment of the division's electors.
"The City of Armadale is one of the top three fastest growing local government areas in WA, and one of the top growth areas in the nation and any changes to the seat of Burt would result in reduced representation of our area," she said. 
"This rapid growth, accounting for a new residential street per week, characterises the region and the adjusted electoral boundaries created by the Federal electoral division of Burt, which have provided a best model for governance at all levels. 
"Ultimately, this has enabled the City of Armadale area to have a national voice and provides greater opportunity to attract federal funding and infrastructure." 
It is understood the draft electoral boundaries will not be released until early 2021.