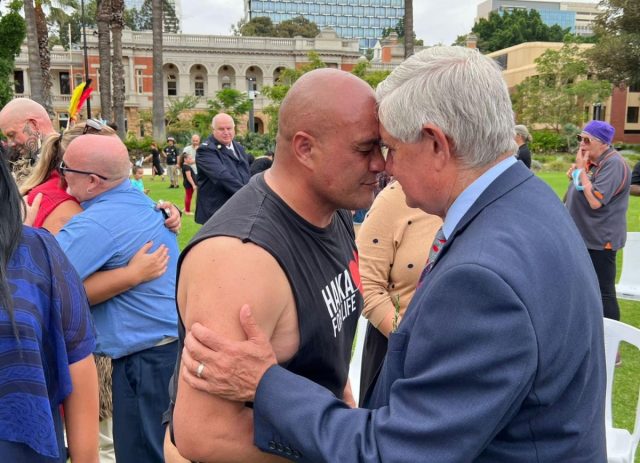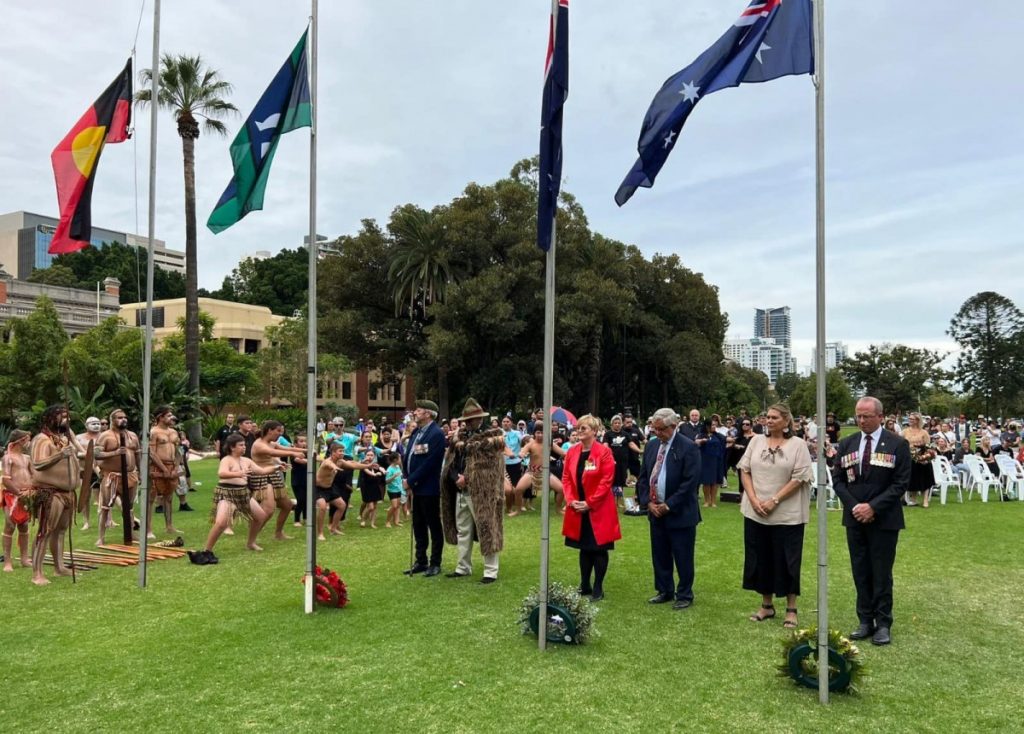 Aboriginal & Torres Strait Islander, Maori and White ANZACs fought together, shoulder to shoulder, in World War One and many armed conflicts throughout ANZAC history, and that tradition of unity was honoured on Monday with Perth's first Indigenous ANZAC Day Service.
A large crowd filled the seating at Perth's Supreme Court Gardens at 1pm on ANZAC Day to pay respect to all ANZAC soldiers in a ceremony organised by Haka For Life, and attended by RSLWA State President Duncan Anderson, WA Greens Senator Dorinda Cox and Minister for Indigenous Australians, Hon Ken Wyatt AM.
Founder of Haka For Life, Armadale-based Leon Ruri, said it was important to create an opportunity for Aboriginal and Maori citizens to pay their respects to all ANZACs through the cultural practises of haka and corrobboree.
"It's for everyone, it's about unity, in the past we have not been included in the service, but we wanted the opportunity to express our gratitude and respect and honour to those who fought for our countries," Leon said.
"We created this because it's the most powerful manner we can express ourselves, through haka and corrobboree.
"My great grandfathers – one was White and one was Maori – both served in World War One and even when I talk about it, I get emotional.
"I didn't want it to collide with the Dawn Service or the Anzac March in the city, so we held it later in the day.
"I hope in the future they can be included in the traditional ANZAC service – I think the traditional ANZAC Day services are incredible, but I there is still room in that structure for our ceremonies," Leon said.
Traditionally a war dance that was meant to frighten enemies into fleeing from the battlefield, Leon said the haka has adapted over time and is now commonly used to express love, respect and the spirit of the people.
"I want people to experience the power of the haka. We had many people who lost their lives fighting – I want them to know the haka is the spirit of the people who stood side by side with your people
"Through haka, we're expressing our love and our sorrow, it's the most powerful way we can express ourselves," Leon said.
WA Greens Senator and Noongar Bibbulmen Yamatji woman Dorinda Cox spoke at the service, remembering her great uncles who fought for Australia in conflicts throughout the last century.
"ANZAC Day is a day for sombre reflection on the tragedy of war, mourning lives lost and re-committing to finding pathways to resolve conflict without violence," Senator Cox said.
"As part of this process of reflection, we must remember the service of First Nations people.
"The commemoration of ANZAC must be more than simply a ritual; it must be full of meaning.
"So together let's contemplate. Let's remember. Let's remember those called to fight in far-flung conflicts in the name of this country; those who never made it home, and those who came home changed forever."
Along with Senator Cox, Maori veteran Corporal Michael Oxo Barclay and Indigenous veteran Private Sonija Hill addressed the crowd at the Supreme Court Gardens, as well as RSLWA Vice President Duncan Anderson, Minister for Indigenous Australians Hon Ken Wyatt AM and Liberals Senator Linda Reynolds.
Leon said he hoped to make the service an annual ANZAC Day event.