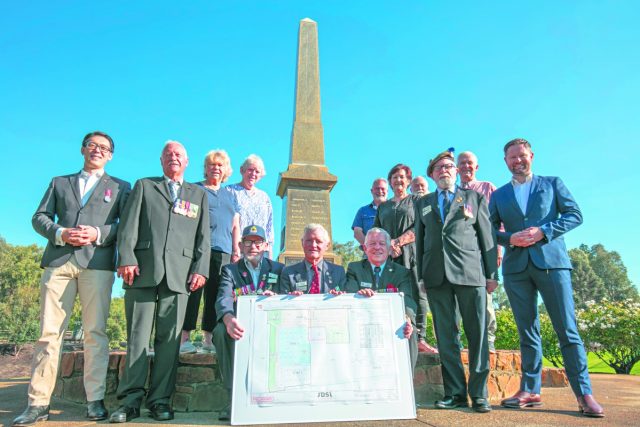 A long-running push to honour two fallen soldiers from the Gosnells area has finally come to fruition, with two future reserves in the Southern River Business Park to be named after the extended Petersen family and James Webster.
Private James Webster, from Orange Grove, was called up to National Service in 1965 when he was just 19.
He was posted to the Fifth RAR battalion and deployed to Vietnam in May 1966.
Less than a year later, at age 22, he was killed after stepping on a VC landmine on February 21, 1967 while on a search-and-destroy mission in Vietnam's Long Hai hills in an incident that saw seven fellow soldiers killed and 20 wounded.
Charles Amos George Victor 'Vic' Petersen served as a member of the 2/11 Battalion in North Africa and Europe during World War II, before becoming a Prisoner of War.
Upon returning to Australia, he settled in Southern River and became a member of the Gosnells RSL.
He went on to serve as a member of the Southern River Progress Association and the Southern River Bush Fire Brigade.
Vic retired from the Gosnells Road Board in 1978, before becoming a volunteer bus driver for the Addie Mills Senior Citizens Centre.
His wife, the late Merle Petersen, served as part of the country's Defence/National Emergency Service in WWII.
She became an active member of the Anglican Church of Gosnells and Anglican Mothers Union, whilst volunteering at Royal Perth Hospital.
Merle was also volunteered for the local Legacy Loral Club, a support organisation for war widows.
Their son Phillip was a recipient of the national Emergency Services Medal for his many years of voluntary service to the State Emergency Service, including his contribution as local manager of the Gosnells SES, as well as SES units in Mandurah and Karratha, and as a ministerial appointee to the SES Volunteer Advisory Committee.
Phillip also volunteered for other organisations, including Scouts, the Duke of Edinburgh Award, community radio and the World Rally Championships.
Originally, streets in the Business Park were slated to be named Petersen and Webster following petitions presented by then-councillor Pierre Yang, however that plan was nixed due to an existing Webster Street in Canning Vale.
When the city identified two reserves in the Business Park, the decision was an easy one to make.
James' sister Anne said she believed her brother's thoughts about the park would have been 'what about the others?', describing him as a selfless man.
"He trained as a medic and he never saw himself as a soldier with a rifle, he was there to help his mates," she said.
"Coming from a semi-rural background, he was horrified at what was happening to the Vietnamese farmers, that really concerned him.
"Perhaps we were naïve but we never imagine that they would use conscripts in battle after only being in the armed forces for one year."
Acting Mayor Adam Hort said dedicating the parks to three members of the Petersen family and James Webster was an excellent opportunity to acknowledge the history of Gosnells.
"We're very appreciative of the work done by the RSL and former councillor Pierre Yang in pushing for this recognition."