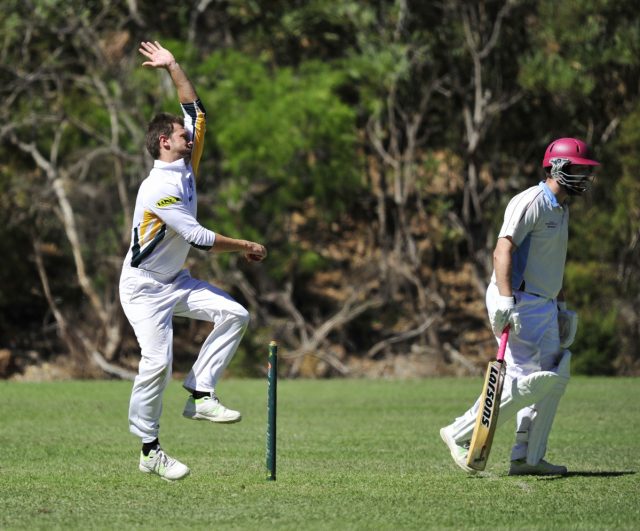 Club hosted the first grade final of the Swan Helena Districts Cricket Association against Swan View on Saturday and Sunday at Karragullen Oval.
The team's home ground at Cross Park was unavailable so the home team turned the secluded oval into a sea of temporary pavilions, which attracted a healthy and parochial crowd.
After winning the toss Roleystone Karragullen captain Trent Stuart elected to bat first on a field that would reward good batting.
The home team started slowly and were sitting at 2/51 at the 40th over.
Wickets in hand saw the scoring speed up with Darryl Kipping and Michael Chmielewski taking the score to 2/116 at the 53rd over, before Chmielewski was dismissed for a classy 53.
Glen Hickinbotham arrived at the crease for an explosive 35 runs off 24 balls, which took the score to 3/161, before a flurry of wickets and several run outs saw Roleystone Karragullen complete their innings at 9/213.
Darryl Kipping carried his bat for the entire innings, compiling a composed 74 not out.
Returning on Sunday the home team started perfectly with opening bowler Toby Moore grabbing a double wicket maiden in his first over to have the visitors reeling at 2/0.
Another quick wicket had the local crowd in raptures and Swan View in tatters at 3/16, however the next two wickets would require 143 runs and 268 deliveries.
Captain David Pease compiled a composed 78 runs with Benjamin Quinlivan scoring 53 runs.
Two quick wickets from Glen Hickinbotham brought Roleystone Karragullen back into the contest, but only one more wicket would fall before Joe Quinlivan hit the winning runs in the penultimate over of the game.
Roleystone Karragullen club coach Gavin Taylor said the first grade side dominated the league all season but had an off day when it mattered the most.
"I think it was great for our club to be in the grand final as it's the benchmark of a club and it has given our youth something to strive for," he said.
"With our junior program moving forward in leaps and bounds, our women's program going from strength to strength and joining the South Metropolitan Cricket Association next year, I think Roleystone Karragullen is going to be the destination club for many more people and I for one can't wait to get back on the track and show what we are made of."
First grade captain Trent Stuart said he was proud of his team's achievements.
"The team performed well scoring a strong score, but unfortunately the opposition were switched on for the chase," he said.