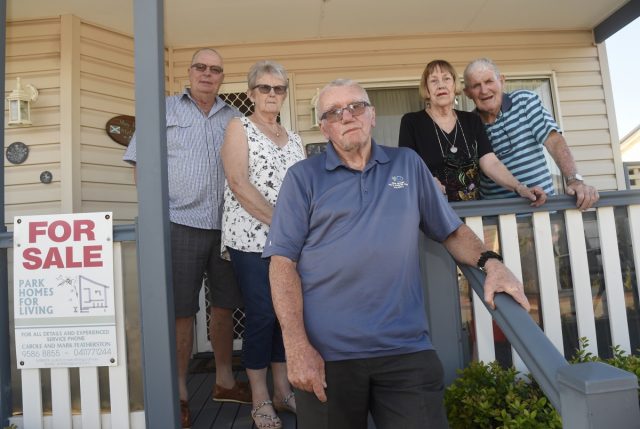 Several residents at an over 45s village in Serpentine are feeling trapped having had their homes on the market for more than a year with no success.
Rob and Val Brackstone, Elisa and Bill Hansby and Bill McIntosh have all lived at Serpentine Falls Park Home and Tourist Village for more than 10 years and although they loved the peaceful surroundings and friendly neighbours, the lack of facilities and unapproachable management have led them to want to pack up and leave.
The addition of constant rent increases has also made their stay at the village financially questionable.
Mr and Mrs Brackstone said they made the decision to sell about 10 months ago.
"We feel trapped here and we do not want to leave a liability for our children," they said.
"We have had no offers or even anyone looking.
"In our opinion no one wants to move here due to the high rent and the lack of facilities at the park."
Mr and Mrs Brackstone said the village's rules prevented homeowners from enlisting the help of a real estate agent of their choosing.
"Park Homes For Sale can list on the condition that they give management half the selling fees," they said.
"If you give management the listing they will not list it above $199,000 hence dictating what you can sell your house for."
Bill and Elisa Hansby said they have lived at the village for 13 years but they now needed to move as they needed more care.
"They will not put our house on the market unless we sell it for below $200,000 and it would be a give away for that," they said.
Village management was contacted for comment but did not respond before deadline.