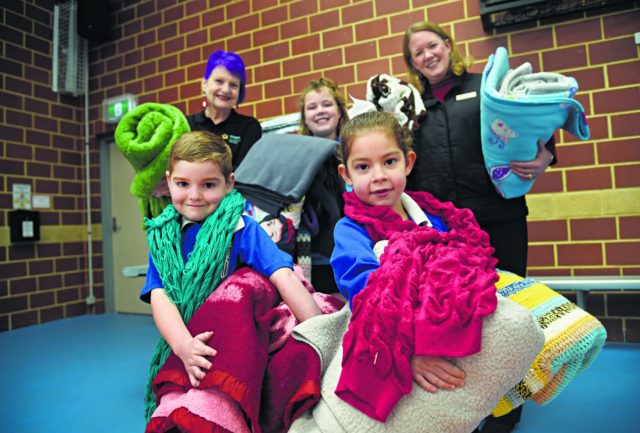 With National Homelessness Week hitting headlines across the country, the community spirit of Armadale has come to the fore.
Numerous government and non-profit organisations, schools, religious groups and others have poured concerted effort into outreach and awareness programs.
Maybe one of the best examples of this has been the hundreds of blankets, scarves, beanies and other warm weather clothes donated to the people of Armadale through a recent drive by Kelmscott Primary School and distributed to the streets through the work of Hope Community Services and it all started with a neighbourly chat between Kelmscott Primary School chaplain Leisl Theeart and her neighbour, Hope's Leanne Bates.
"Leanne and I are neighbours and she told me as a community service Hope Community Services go out on to the streets of Armadale and give out blankets to the homeless," Ms Theaart said.
"Just through talking about it we decided this would be a good idea and that we wanted to get on board."
It did not take much prompting from locals.
Within a matter of months, the school has collected hundreds of items, which will soon got to Armadale's most needy, in the time of year when they are most required.
"We do a street van service in Armadale Memorial Park every Thursday," Ms Bates said.
"We have a barbeque and plenty of people – young people, homeless men and women come out.
"We are always in need of blankets, and basically anything warm, especially at this time of year.
"We're non-for-profit and as of the first of July all of our funding has been cut.
So we pretty much rely on donations and we rely on support like this now more than ever."
National Homelessness Week is as imperative as ever this year, with one in six people aged between 15 and 19 who took part in Mission Australia's survey reporting they had experienced homelessness in 2017.
The figure is higher for WA, with 13.5 per cent of West Australian respondents reporting they couldn't go home.
Mission Australia WA state director Jo Sadler said the organisation's report was daunting reading but still gave an idea of what can be done to tackle homelessness throughout the state and in high-population areas.
"It also allows us to look at the differences in the experiences of those who have and haven't experienced homelessness, in areas such as self-esteem, career and job aspirations and family conflict, and gives us a better picture about what support systems are most needed," she said.
"It should provide at the very least with a shocking wake-up call to all of us that more needs to be done to help our most vulnerable, especially our young people."
National Homelessness Week runs until August 12, with a range of events and activities available.
Go to homelessnessaustralia.org.au for more information.