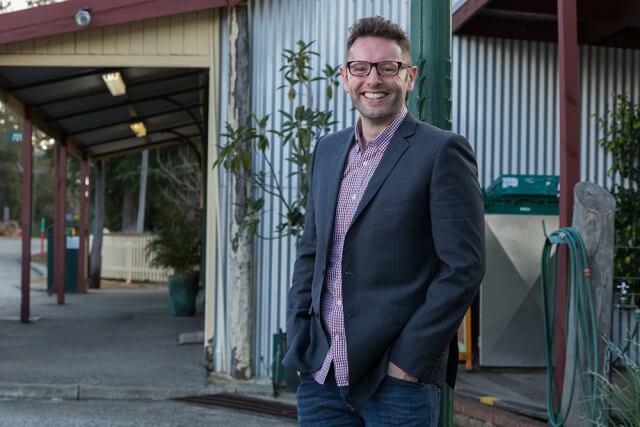 When director and writer Adam Graveley was offered the chance to film in a Jarrahdale orchard he knew he had a horror story on his hands.
Third Night tells the story of a couple's first weekend at their new farmhouse unaware they are being watched by something sinister.
Mr Graveley said it was the location that inspired the film before he even had a script.
"The way this came about is that (producer) Dan (Holliday) knew Tony (Tricolo) who owns an orchard and land," he said.
"Tony was happy to give us access to that for the shoot so I pretty much retrofitted a film based on this location and in terms of Jarrahdale's involvement it was integral because the film is based around the natural bushland, the orchard and the farmhouse.
"We wanted to create a sense of unease and creepiness so using the natural bushland around the orchard was the perfect setting."
He said the sense of isolation in the surrounding bushland was one of the film's strengths.
"Isolation is one of the most key factors in creating horror so it's important to cut the characters off from everyone else but at the same time we didn't want to pitch this as being in the middle of nowhere where there was no one around," he said.
"Another thing was something Tony said, which was that out here you can do whatever you want within the realm of reason without people knowing because you've got these big properties.
"We also got to know the area really well and walking around the bush we'd find random little things and incorporate it so there's a scene with a bathtub in the bush that's just been abandoned and we had some fun with that – it just adds to the creepiness."
Mr Graveley said while the location informed the genre the plot was inspired by a news article about an American family who purchased their dream home only to be terrorised by an unidentified stalker calling themselves 'the watcher.'
"The idea of having the antagonist as the watcher meant there was an element of audience participation in that I shot a lot of point of view stuff so the audience becomes the watcher," he said.
"I kind of liked that idea and it sort of helps with a no budget feature if you don't have to show the antagonist the whole way through.
"It also helps as a psychological horror because what you don't see is often more scary."
He said ultimately it was a story most people could relate to because everyone has experienced the uneasiness of spending their first few nights in a new home.
While Mr Graveley has a number of short films under his belt, Third Night is his first feature.
It was shot over December and January on what Mr Graveley describes as a micro to no budget with just eight cast members.
The film is currently in postproduction and Mr Graveley hoped to have it ready to be released on the festival circuit in December or January.
For more information visit 3rdnight.com or search 3rd Night Movie on facebook.