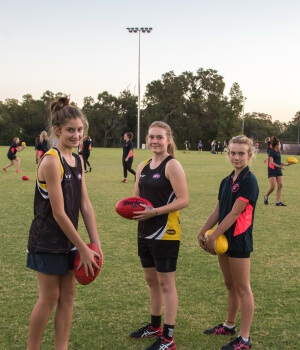 Three Mundijong Centrals Junior Football Club girls have been selected for the state schoolgirls 15s AFL team.
Jenna Bantick (14) and 13-year-olds Eliza Mitchell and Tayla-Rose Whincup were one of 48 girls selected from across WA for the competition, which starts in July.
Coach Rob Durant said he had spoken with all three players and they were excited about making the final squad.
"It is a fantastic achievement," he said.
"They have all worked very hard with extra training over the summer."
Mr Durant said he personally could not be more proud.
"The girls trained over the summer with the WAFC," he said.
"They also attended the 10-week summer series skill training hosted by the Mundijong Centrals Junior Football Club."
Jenna said it was a great privilege to represent the state and she was expecting a lot of training.
"I love football, it is a physical sport and I enjoy playing with a team," she said.
"I could not have gotten to where I am now without all the support from the coaches and my parents so a big thanks to all."
Eliza said she was honoured to have an opportunity to represent WA.
"I'm also very excited to see what events and games I've got ahead in my future playing women's AFL," she said.
"If any girl wants to play an active and fun game I would recommend football.
"It can enhance your health and fitness and you form strong relationships between friends and players."
Tayla-Rose said not only was she excited but she was also thrilled to represent women in the AFL.
"I am very proud of myself and the efforts it's taken to get to where I am," she said.
"I hope that young girls out there read this and feel inspired to be able to give footy a go."