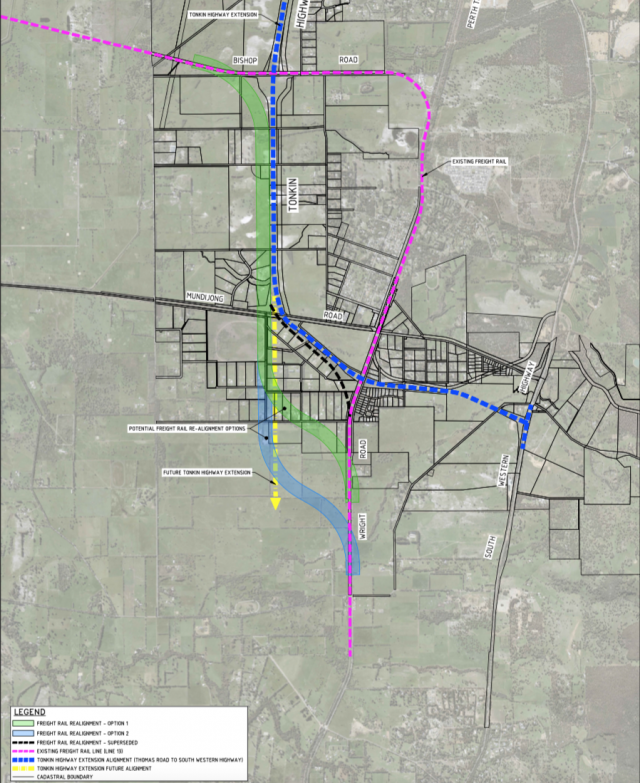 Mardella residents have launched a petition against drastic changes to the decade-old freight rail line realignment south of Mundijong Road, which they say has left them with an uncertain future.
The proposed freight rail realignment south of Mundijong Road has been on the cards for more than 10 years, but Mardella residents were shocked to see it had been altered in the Shire of Serpentine Jarrahdale's 2020 Mundijong District Structure Plan and was now set to impact on their properties.
Local residents have joined forces to fight the changes, calling on the Department of Transport, Main Roads and Arc Infrastructure to work with the Shire of Serpentine Jarrahdale and investigate options that would see the previous plan reinstated.
Principal petitioner David Leitch said the new route published in the structure plan had been drastically altered without prior consultation with landowners and residents – which would be blighted by the change.
He said landowners had purchased their properties based on the route proposed in the shire's district structure plan from 2008, and that the route from Mundijong Road to Wright Road would impact newly-built homes and adversely impact on properties values and saleability.
"The affected landowners have no security and face an uncertain future until such time as the matter is resolved," he said.
For many affected landowners, Mr Leitch said time was of the essence and that they would be seeking a mutually acceptable resolution.
It is understood that more than 20 residents have since met with local politicians, and plan to submit the petition to state parliament later this year.
Shire of Serpentine Jarrahdale president Michelle Rich told Examiner Newspapers that while the shire was aware that the state government was exploring route options for the realignment of the freight railway, no decision had been made on a preferred route.
"Rail planning and infrastructure provision is undertaken by the state government," she said.
"The shire continues to advocate to the state government for community engagement to occur at all stages of this process, especially with surrounding residents and businesses."
Main Roads WA was contacted for comment, but did not respond before Examiner Newspapers' print deadline.