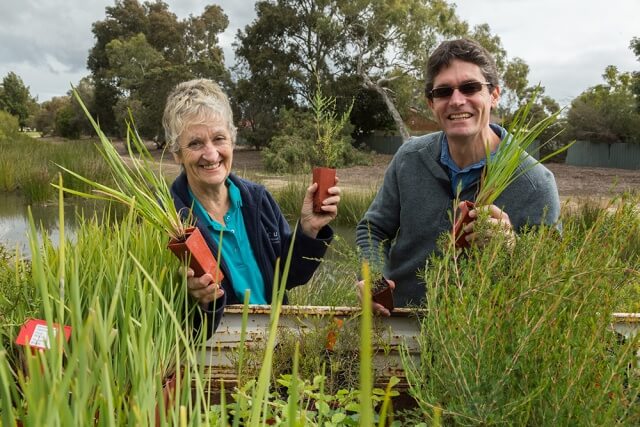 South East Regional Centre for Urban Landcare is a finalist in this year's National Landcare Conference and Awards after taking out the state award in the partnership category.
SERCUL chairwoman Pat Hart said it was exciting to have the environmental organisation recognised on a national scale given the work that went into it.
"It's recognition of the commitment of the staff and the community and it's also recognition from our partners regarding the role that we have," she said.
"Why do people want to come and work with SERCUL – I suppose it's because we have the community's confidence.
"SERCUL's whole philosophy is based on partnerships, whether these are with community, local or State Government.
"To succeed with any project, all involved must have a clear understanding of each other's role and a clear agreement on the expected outcome."
Based in Beckenham, SERUL was established 14 years ago as a sub-regional landcare group covering 12 local government areas.
As part of its work SERCUL provides administrative and financial management support to seven local community groups, enabling volunteers to spend their time on the ground.
SERCUL also provides training, administrative support and a variety of resources and equipment to more than 40 other groups and schools.
Ms Hart said projects were undertaken through a number of partnerships and had allowed SERCUL to achieve amazing results in reconstructing wetlands, restoring riverine environments, creating streams from degraded drains and inspiring community groups to work with them.
"One of the main aims of SERCUL is to work with everyone to make a difference in how our catchment is managed and we believe we are making that difference, whether it's through some of these big projects that we do or influencing policy and community groups," she said.
Eleven award winners will be announced from 69 finalists in nine categories at a gala dinner in Melbourne on September 22.
The prestigious Bob Hawke Landcare Award will be announced on the evening with the winner to receive $50,000 to foster a Landcare project.
The People's Choice Award offers the community the chance to vote online for the most inspirational landcarer out of all the finalists and will also be awarded on the night.
Landcare Australia chief executive Tessa Jakszewicz said it was important to showcase the accomplishments of landcarers from across the country and bring new technological advancements to light.
"The full value of learning new ways to protect our environment and advance our agricultural practices will only be realised if it's shared among all of us," she said.
"With this approach everyone can adopt new methods and techniques for their landcare projects."
The landcare community is also celebrating 30 years of landcare in Victoria, where the movement began.
For more information visit nationallandcareconference.org.au.
For National Landcare Awards and Conference updates follow @LandcareAust on Twitter, like Landcare Australia on facebook and tag #landcareconf16.
Voting for the People's Choice Award will be open until 6pm AEST on September 21.