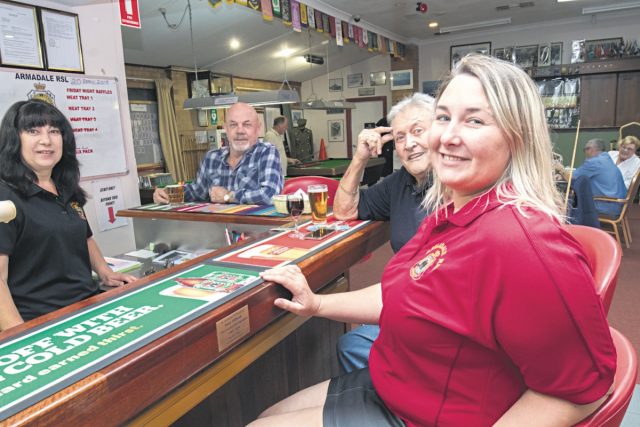 The new female president of the Armadale RSL is not afraid of fighting for veteran's welfare as she pushes for better services within her branch.
In March, Lynda Zappelli became one of only five females from 132 RSLs across Western Australia to sit as branch president, and the first in Armadale RSL's history.
Ms Zappelli served as a Navy helicopter mechanical engineer from 2001 and was discharged in 2011.
Like many veterans she suffered injuries both physical and mental during service and lives with permanent nerve damage in her foot and Post-Traumatic Stress Disorder.
As a veteran who still fights her own battles at home, she said she knew support for ex-service people was often inadequate, and she wanted to use her position to do something about it.
"It's sad but it's the honest truth – a lot of ex-service and first-time responders are struggling," she said.
"Group therapy is one thing we definitely need to bring in.
"Veteran welfare and aid; employment opportunities in the area for ex-service people; I'm really keen to get art therapy and music therapy down here.
"We also need drug and alcohol programs to give them somewhere they can come for help and not be judged."
The branch's male members openly admit early on having a woman on top ruffled feathers, however they said her hard work had already begun to change opinions.
Mike Fairweather, 69, served in the RAAF from 1970-79 and said there had been a shift within the club.
"Counselling has been good – a lot of members have been coming in for it," he said.
"It's coming on in leaps and bounds."
Patrick O'Rourke, a 76-year-old Vietnam veteran, said his president's push for support services had earnt his respect.
"I'm glad we got a female for a change," he said.
The Armadale branch's changes are part of a broader national push to reinvent the RSL after 2005 data revealed membership rates were the lowest since World War II.
An important part of keeping the clubs alive, Ms Zappelli said, was also making branches places where families feel welcome.
"As a young veteran when you think of an RSL you think of a pub where old guys talk about their service but is that what young veterans want?" she said.
"It wasn't what I wanted."
She said she felt reawakening RSLs was vital for future generations.
"Everything we to do today has come from history and we've learnt from it," she said.
"History is knowledge, and knowledge is power for future generations."