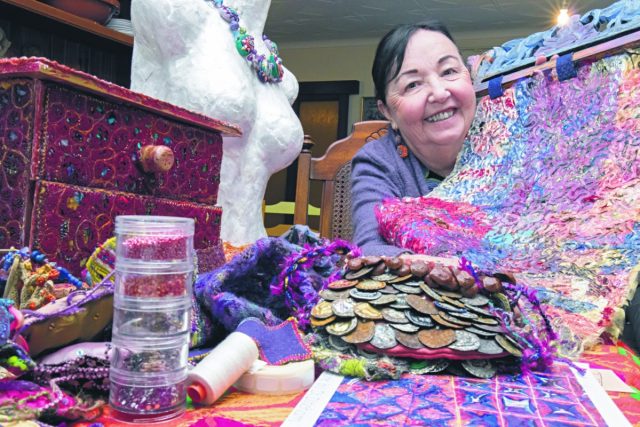 Jewellery made from old jeans and recycled coffee pods, decorative wall hangings and handmade books with Japanese stab binding are among just some of the items on display at next month's art exhibition.
Thornlie-based textiles artist Di Ditcham will be exhibiting many of her masterpieces alongside other well-known artists Jill Hoffman, Robyn Beardsell and Bev Tarling at an arts exhibition in Kalamunda hosted by the Lesmurdie Arts and Crafts Group.
"Many of my works are unique in their own way," she said.
"My books include some of my old drawings and paintings dating back to the 1980s and many of my jewellery pieces are made from recycled jeans, bottle tops and other embellishments.
"One of my wall hangings includes fabric that has been chewed by grandson's pet rat which has given it a nice texture."
Ms Ditcham graduated from university in 2014 with a Bachelor of Arts majoring in textiles, which she started as a mature age student.
"It was hard work being with the 19-year-old students but they were very supportive and a pleasure to be with," she said.
"I was their 'granny'.
"It was definitely a great learning curve for me and it made me think outside the square when it came to textiles."
The exhibition, which will be held at the Kalamunda Agricultural Hall on May 5 and 6 from 10am to 4pm, will provide the public with an insight into the many talents of the arts and crafts community.
It is free admission with tea and coffee available.