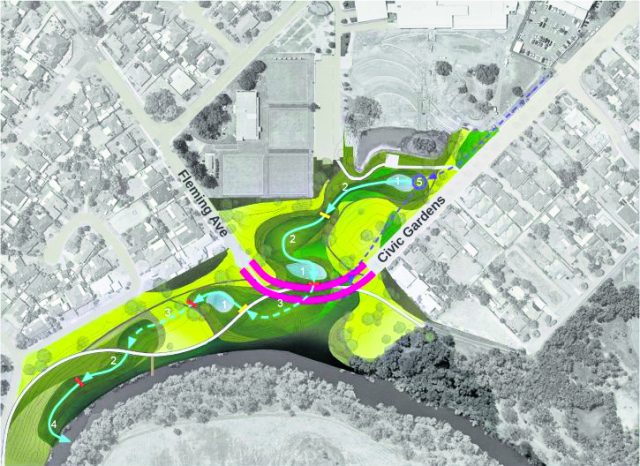 A sustainability expert has recommended the City of Canning investigate ensuring natural filtration methods for water entering the Canning River are not compromised if a proposed new bus link goes ahead.
The City of Canning has proposed linking Cannington's Fleming Avenue and Civic Gardens to create a new route for buses traveling from Cannington Train Station to Curtin University.
It said if approved the link could cut up to three minutes off bus trip times.
However public concern has risen about a number of elements of the proposal, including that the road's construction could damage a nearby wetland and native plant area.
John Curtin Distinguished Professor of Sustainability Peter Newman said the proposed link could be constructed in a way to protect the environment, but it would require careful planning.
Dr Newman is a sustainability expert who in 2014 received the Order of Australia for his work on sustainable transport and urban design, and has worked with the West Australian and New South Wales governments on planning.
"Roads can severely impact on wetlands but can be designed through water sensitive urban design to fit in," he said.
"This means being aware of the local hydrology and enabling water flows to gently enter the wetland through a soft edge of natural vegetation, not a pipe."
The wetland adjacent to the section of proposed road was purpose built to strip nutrients from water entering via a nearby stormwater drain at the north of the pool.
From its entrance into the wetland at the north of the park to its eventual destination at the Canning River, water flows at surface and sub-surface levels filtering through vegetation along the way.
Dr Newman said if the road were constructed the environment would be best protected if those channels were preserved.
"It's a matter of careful design," he said.
In October Perth group Syrix Environmental released a document in which it said it was concerned the road's development could impact on subsurface water filtration in the area.
At the city's November 21 council meeting Canning Environment director Warren Bow stressed further investigations on the road and its implications on the surrounding area would be carried out if council supported the proposal next month.
"If it is supported there will be significant investment done in the project based on further design, the impact on the adjacent constructed wetlands, any engineering assessment of noise and the running of buses along the road, the suitability of the road for buses and road safety issues," he said.
"All of that will happen if this is supported by council."
The city is due to present a report on the matter to council on December 19.