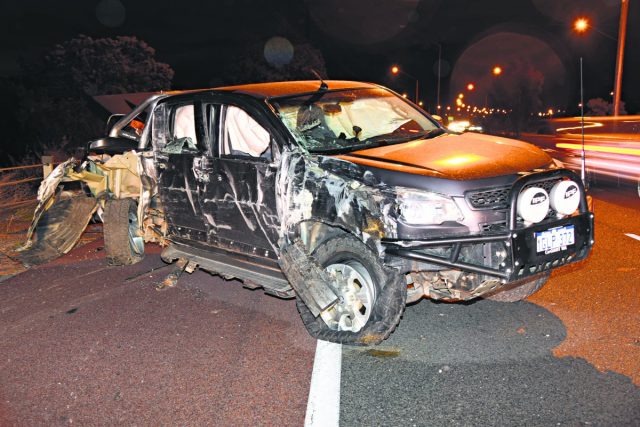 A series of horrific car accidents continue to plague Vahland Avenue, including the fatal crash of rising basketball star Joel Burton who died last month.
Just after his 18th birthday, Joel lost control of his Nissan Patrol and slammed into a tree on Riverton's Vahland Avenue on June 28.
However, this is not the first time Vahland Avenue has recorded a fatal crash like this.
On August 18, 2019, a 24-year-old Rivervale man was rushed to Fiona Stanley after crashing into a tree near Tribute Street.
The man was unable to be saved and the accident occurred just metres from a white cross that stands in the median strip, to remember three teenagers who lost their lives in a high-speed crash on the same stretch of the road in 2008.
A number of community considerations have come up in recent years as to why Vahland Avenue needs urgent upgrades to stop these accidents from happening in the future.
The Examiner contacted the City of Canning and confirmed a notice of motion will be considered at the July council meeting to investigate the improvements of Vahland Avenue to increase motorist safety when using the road.
"Any loss of life is a tragedy and I am deeply saddened to hear of the fatality on our roads," said the spokesperson.
"I am aware of community sentiment regarding consideration for a reduced speed limit on Vahland Avenue, installation of a speed camera at the intersection with High Road, and concerns about the presence of a hump in the road.
"A notice of motion was presented by councillor Spencer Teo and councillor Ben Kunze and has the support of myself and city staff.
"The city will be working collaboratively with Main Roads WA and other statutory authorities to consider potential measures to mitigate both the number and severity of accidents on Vahland Avenue."
The spokesperson also said that recent city road rehabilitation maintenance works to Vahland Avenue included the resurfacing of the Northbound carriageway from South Street to Panamuna Drive.
"We have also been working closely with the state government and Orana Catholic Primary School for a 40km/h school zone on Vahland Avenue which will include flashing warning lights in close proximity to the school," said the spokesperson.
"This school zone has been approved by Main Roads WA and the flashing 40km/h signs and associated infrastructure will be installed as scheduled by Main Roads WA."
Vahland Avenue currently has a 70km/h speed limit.
Anyone with dashcam vision around the time of these crashes is asked to contact Crime Stoppers on 1800 333 000 or report online at crimestopperswa.com.au