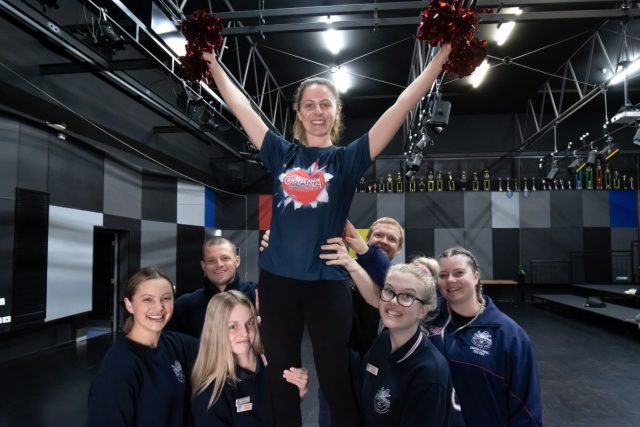 The tables have turned at Thornlie Senior High School, with year 12 students currently teaching 25 teachers to perform a cheerleading and dance routine for 'R U OK' day celebrations this year.
Head of learning area of the arts, Lori Lockyer, said the program kicked off in 2015, when year 12 students were required as part of the year 12 Certificate II in Dance qualification to complete a unit called 'Working with Others'.
"The year 12 dance cohort decided they'd like to gain competency for this unit by teaching the staff and having them perform at their end of year showcase," she said.
"From here the Thunder Ohana Staff Dance Program was born and continues to grow each year."
The eight male and 16 female staff train every Monday morning and by the time they hit the stage they will have had 11 weeks of training.
Cheer and dance coordinator, Tahlia Brealey, said she joined the program as a way to meet new teachers and have fun.
"I hope the year 12s have enjoyed getting to know the other side of teachers they wouldn't normally see," she said.
"I'm hoping when they watch us perform on stage, knowing that they created our routine, that it will be a very proud moment for them."
While the business and technologies teacher Sean Doyle said teachers can be just as tricky to control as students can be.
"I want students to have the opportunity to pass on something that they are so passionate about and to develop their own confidence and leadership skills which will translate into their everyday life," he said.
This year's theme is 'ICONIC' and the 12 students said they are expecting a lot from the teachers.
Choreographer and year 12 cheer and dance captain Rhiannon Davies said her expectations were nothing but high.
"Seeing them in training, I can already see how much they love performing the routine and know that they will have an absolute ball on stage," she said.
Dance captain Amber Richards talked about the responsibility and the challenges they faced in the beginning.
"Having the responsibility to teach our staff was pretty scary," she said.
"At first I had trouble navigating what technique would be best to use when teaching them choreography, but after a few lessons I stopped seeing them as authoritative figures that I see every day in class and more like normal people that wouldn't care if I made a mistake.
"School can be pretty hectic at times and I feel as if both staff and students forget to take a step back and enjoy themselves.
"Being involved in staff dance as students gives us the opportunity to look at things from a different perspective and often sympathise on how challenging it is to teach at times.
"This experience is part of the reason why I love being of our Thunder Ohana."
You can find more local Canning news here
A conversation can change a life. For more information and support please see R U OK