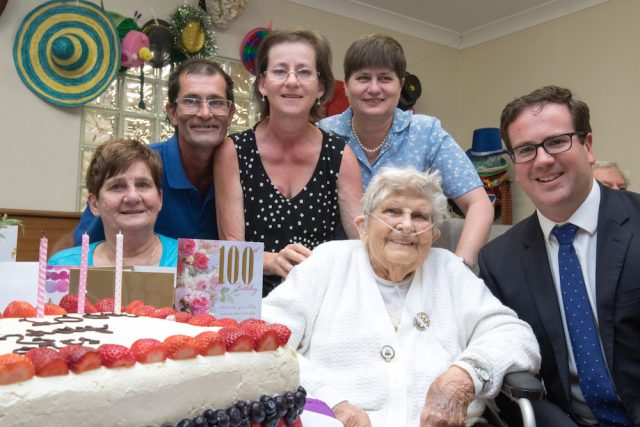 As the soothing sounds of Vera Lynn and Anne Murray filled the air, Armadale resident Doris Brett celebrated her 100th birthday surrounded by family and friends.
On January 30, at Opal Aged Care Armadale Ms Brett marked the milestone with a smile on her face as she sat in her wheelchair.
She said it felt like any other day but was happy with the cards she had received including one from Queen Elizabeth II.
Member for Burt Matt Keogh presented Ms Brett with a centenary badge as well as birthday cards from Prime Minister Malcolm Turnbull and the governor general Peter Cosgrove.
Born in England in 1918 Ms Brett was married in Christmas 1940 and following the death of her husband she joined her only daughter and her family in Armadale in the 1970s and has lived here ever since.
Her daughter Sylvia Pilgrim said she was chuffed that her mother got to celebrate 100 years.
Ms Brett's granddaughter Isabel Bond said she was lucky to have her grandmother.
"She suffered from a serious bout of pneumonia," she said.
"We didn't think she was going to make it, but she's here and I'm glad she is."