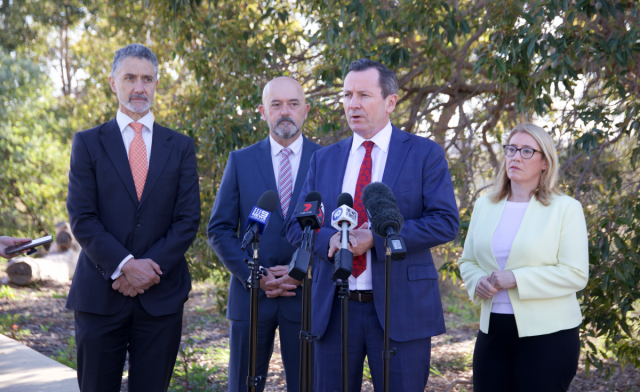 The long-awaited Byford Rail Extension is another step closer to fruition this week, with a location finalised and a business case now with the national infrastructure advisory body – but not everyone is happy about the move.
The concept design phase is now underway for the street-level station, which will involve the extension of the line eight kilometres south of Armadale to Byford's Town Centre.
The new station, which will be situated on vacant land north of the Byford Village Shopping Precinct, will feature 600 parking bays, a bus interchange and an overhead pedestrian crossing.
The works will involve replacing the Thomas Road level crossing with a road-over-rail bridge, with works expected to commence in late-2020 and support more than 330 jobs.
Armadale Station will also be expanded, with longer platforms, a new Australind platform, an extended pedestrian overpass and the current bus interchange redeveloped into a modern facility with better access to the station.
The main construction contract is expected to be awarded in mid-2021.
With Byford's population forecast to double by 2036, Premier Mark McGowan said it was vital the area had the necessary public transport to support the needs of residents.
"This is an important, rapidly growing corridor with a great many young families moving here and this is designed to meet those needs," he said.
"There was some talk historically that the train station would be north of town, which would have been cheaper, but the best option would be to have it in town and that's exactly what we're doing.
"Once complete, the project will make it easier for Byford residents to catch public transport in to Armadale, and other centres on the route to the Perth CBD, opening up new opportunities for employment, education and entertainment.
"The Byford Rail Extension will also act as a catalyst for further development in the future town centre, maximising the growth potential of the town."
Transport Minister Rita Saffioti said the state government was hoping to receive an answer from Infrastructure Australia by the end of the year.
Shire of Serpentine Jarrahdale president Michelle Rich welcomed the finalisation of the Byford rail extension business case, and said it marked a significant milestone, which aligned with the shire's long-term vision for the town centre.
With the shire having advocated for upgrades to improve the safety of Thomas Road for several years, the shire president said she hoped the work would be the catalyst for further investment in upgrades to Thomas Road to support future traffic volumes.
But not everyone is pleased about the announcement.
Many residents have since raised concerns about the station attracting anti-social behaviour from the Armadale Line – which has long had the highest rates of violent crime among Perth's public train lines.
It is understood there will be a series of community information sessions on the project in the coming weeks.
To have your say on the project, visit mysaytransport.wa.gov.au/byford-rail-extension