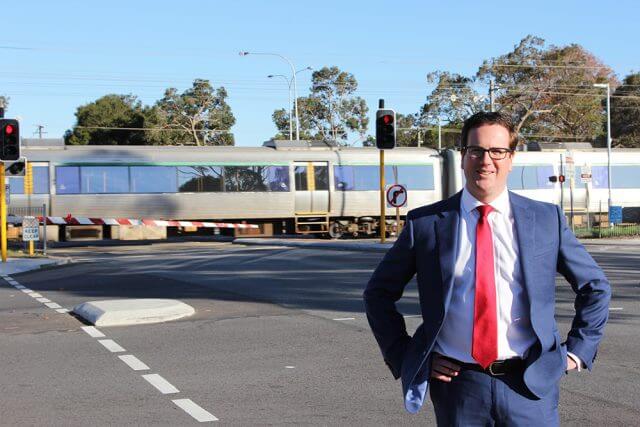 Denny Avenue is shaping up to be a hot political issue in Burt with both major party candidates identifying it as an important concern.
Labor is keen to highlight its $25 million commitment made during last year's Canning by-election with the Liberals yet to make a financial commitment.
The road also continues to record shocking crash statistics following the release of preliminary figures from Main Roads WA.
There were 42 crashes on the 200-metre stretch of road in 2015 including 31 at the Streich Avenue- Railway Avenue intersections, putting it in the top 40 worst intersections in WA.
Since then new lights have been installed at the Streich Avenue intersection.
In the five years leading up to 2015 there have been 168 crashes on Denny Avenue including 41 resulting in serious injuries or death.
Previously an underpass at Davis Road has been identified as the best solution to traffic issues at Denny Avenue but it has been quoted as costing more than $50 million to complete.
Labor candidate for Burt Matt Keogh said while level crossings were generally a state issue, the $25 million commitment would get a solution underway.
"The reality is that a project like Denny Avenue…wouldn't even attract the attention of Federal Government but there's been a recognition that it is a critical safety issue in this area," he said.
Liberal candidate for Burt Matt O'Sullivan said the Kelmscott CBD was a priority for him and he would like to see a total rethink of the area.
"It's a very expensive fix and so I'm interested in understanding if the pencil can be sharpened on that and are there other ways to achieve the ultimate result that we're looking for which is better traffic flow," he said.
"Possibly there's other routes that can be looked at, again what I've seen on this, there is no design or plan and so that would probably be the first step is to actually look at how do you solve this problem and look at it from a total package, not just fix an intersection.
"Should I be the member for Burt it will be one of my top priorities."
Mr O'Sullivan questioned where Labor's $25 million would come from and how they would pay for it.