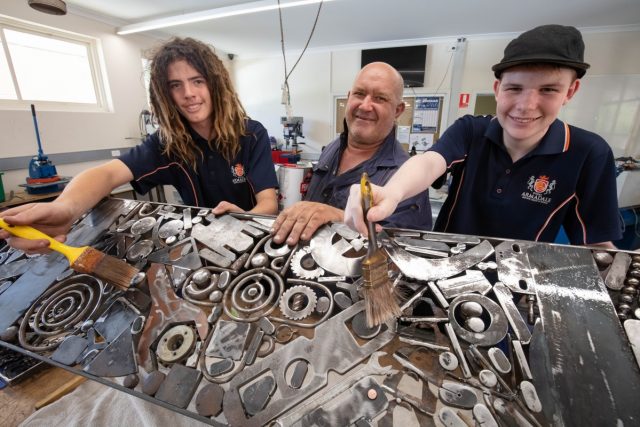 A group of ten boys have teamed up with a local artist to create a couple of masterpieces, which will liven up the school's Indigenous garden.
Armadale Senior High School's Aboriginal and Islander education officer Barbara Hutchinson chose five Indigenous boys who then selected a non-Indigenous friend to take part in an activity alongside well-renowned artist Martin Jaine.
Together the group collected a variety of recycled materials including bicycle chains, screwdrivers and horseshoes to create two unique benches for the school's garden.
Ms Hutchinson said the project was a good fit for the students and a great opportunity to learn some new practical and team building skills.
"Once I saw what Martin Jaine did and the great work he produced using recycled materials, I decided to investigate further," she said.
"I wanted the boys to learn welding skills but also artistic and creative skills.
"One of the boys, who was especially interested in welding as a career, has been offered work experience as an outcome of this project."
Each of the students created a unique Aboriginal symbol, which was then incorporated into the final design of each bench seat.
The symbols included boomerangs, honey ants, emu and kangaroo prints and campsite and were all made out of scrap metal.
The students are interested in continuing the project next year.