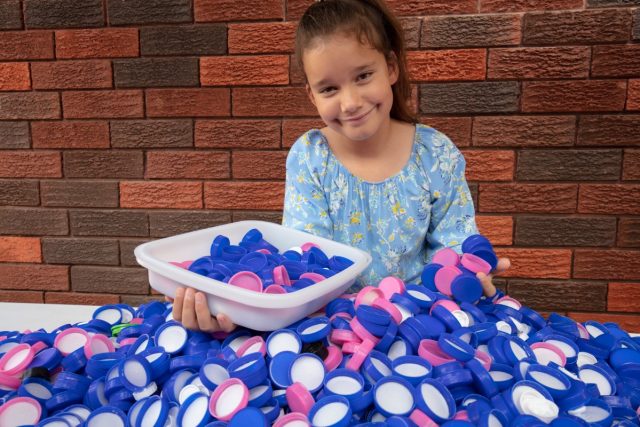 At just 10 years old Angelina Armstrong doesn't think twice when it comes to giving back to her local community.
The young Thornlie resident has collected more than 3000 milk lids that will be recycled to eventually become prosthetic hands.
It all started when Angelina's dad came home from work one day and told her how they were collecting milk lids and bread clips for Envision.
Envision is a not-for-profit organisation that collects bottle caps to manufacture innovative products that support some of the most marginalised and disadvantaged in our community.
From there, Angelina felt inspired and said she wanted to collect the milk lids because her grandfather, who has a prosthetic leg, is very special to her.
Angelina then asked her mother Michelle Armstrong to ask people in the community for their milk lids.
"We have been asking our friends, neighbours and the community of Thornlie to collect for us and their generosity has gone way beyond belief," she said.
"One beautiful lady collected a massive removalist box for Angelina, that was unbelievable."
Ms Armstrong said her daughter has now mastered the true production line at home.
"She sets herself up in the dining room/kitchen, uses a spoon to remove all of the white plastic inserts and puts them in a bin beside her," she said.
"She then throws the lids into a large clothes basket on her other side before washing them all in the bathtub.
"They are then taken outside to dry while she starts on another batch."
Angelina said she isn't sure when she will be stopping and said she will continue the collection even during the school holidays.
Ms Armstrong said her daughter loves to help people and get involved in worthy causes whenever she can and when she does, she does it well.
"As soon as she hears of someone needing help or a charity being run, she comes running to tell me about it then gets busy doing all she can to help," she said.
"Angelina doesn't think twice about giving away anything she owns and quite often some of her giveaways are something that has been or still is very special to her."
"Many times during the year Angelina will clean out her bedroom and say 'here, mummy, please give this to charity'.
The family has now registered themselves as a collection point but they are yet to hear back.