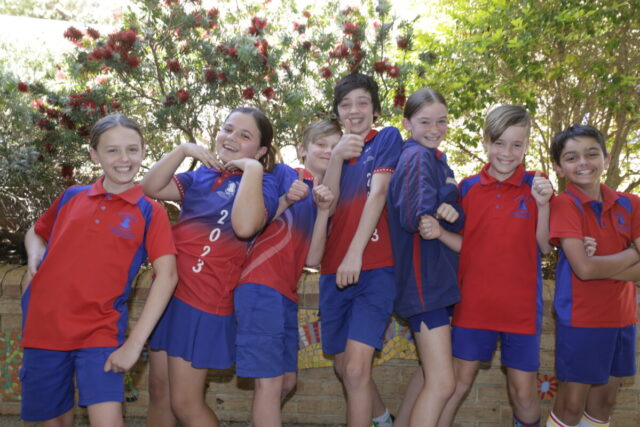 A group of STEM superstars from Armadale Primary smashed it out of the park at Scitech's annual Challenge Day last Thursday.
Eight year five and six students from the school were chosen for their particular talents in the areas of science, technology, engineering and mathematics. They formed two teams: Technoslime, and The Potatoes.
Over thirty teams of gifted students from all over Perth competed in the popular Challenge Day which gives students a chance to apply their creative thinking, problem solving skills, and teamwork to real-world problems.
This year's event focussed on the theme of 'migration', and students were asked to work through a series of brain-teasers around the subject.
One activity required teams to become town planners and civil engineers and to strategise the staged growth of a town while maintaining green areas and migration routes for local animals.
Another challenge tested the students' practical application of physics as they created sound barriers out of household materials to minimise sound emitted from a speaker.
A maths scavenger hunt had the potatoes and technoslime crew darting all over Scitech to finish in record time.
And after a huge day, their astronomy comprehension was tested with a pop quiz following a feature presentation in the planetarium.
After a solid performance the kids were excitedly anticipating the announcement of the day's winners.
"I thought we might have had a chance at second or third," Matthew said. "But when our name wasn't called out, I lost all hope."
"I think we all did," Bodhi chimed in.
When the judges announced the winner was "Technoslam" there was a moment of confusion before the penny dropped; the judges had mispronounced the team's name.
In their first-ever appearance at the Scitech Challenge Armadale Primary had triumphed
"I may have squealed," Aimee said.
"You definitely squealed," Alec offered.
Science teacher Evie Knight was bubbling with pride for her students and their achievements.
"It was so inspiring to see how engaged they were," she said.
"It was nice to be able to get out of the classroom and get some real-world application, and this encourages me to follow-up with similar opportunities in future."
Each and every one of the participating students agreed that they'd had an "amazing" experience.
"That is going to be a moment we're always going to remember," Bodhi said.
"I'm quite passionate about maths and technology. This experience has helped me see the kinds of real-life obstacles that scientists need to overcome," Matthew said.
"My favourite part was the town planning bit. I could see myself being an architect when I grow up," Oscar said.
"I know lots more about teamwork now," Braye said.
"I feel more confident asking for help, and not just doing everything on my own," Aimee said.
The school's success was made more impressive by the work that occurred before the kids stepped foot off campus; entry to the Challenge was fully funded by the efforts of the school's Green Team whose 'Containers For Change' initiative had raised enough last term to fund the $36 entry fee for each student and their transport to and from the event.