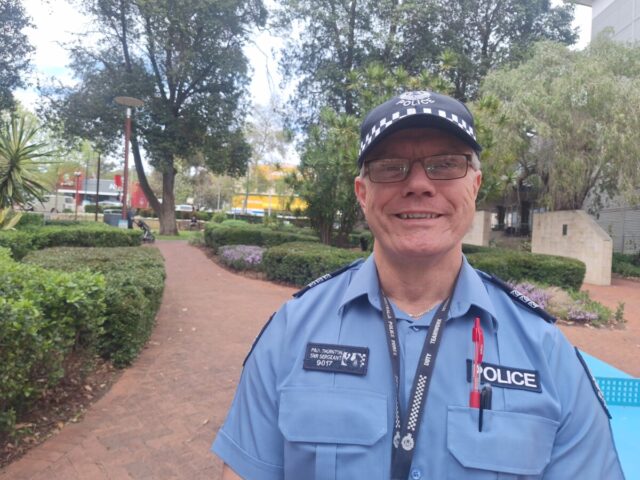 According to recent statistics, Armadale perhaps still unfairly wears the badge of a 'crime capital'.
When you compare WA Police crime statistics from the 2022/23 financial year, the District of Armadale (which encompasses the sub-districts of Armadale, Gosnells, Canning Vale and Mundijong) is no more a hotbed of crime than other metro districts like Perth, Cannington, Fremantle or Mandurah.
In fact, you were far more likely to be a victim of homicide in most other districts, including Joondalup and Mirrabooka.
The rate of crime in the district of Cannington far surpassed Armadale's in almost every single category.
The only notable (and very serious) exception was the rate of sexual assault.
And you were far more likely to be robbed in your house if you lived in the districts of Mirrabooka, Fremantle, Mandurah or Perth.
Armadale Sub-District Senior Sergeant Paul Thornton said there are three areas where his officers are kept busiest: family violence, and the mostly opportunistic crimes of retail theft and stealing from cars.
Snr Sgt Thornton said a frustrating number of these crimes of opportunity could be deterred through some very simple preventive measures like removing valuables from cars, closing garage roller doors, and leaving spare sets of keys in secured locations.
A national recruitment shortage is stretching the thin blue line even thinner.
Many states are looking overseas to fill vacancies, but the housing crisis is becoming a major roadblock to that solution. So, there's a need to focus police efforts where they're most required.
Snr Sgt Thornton said there are a number of things the public can do to both deter crimes, and to help identify offenders.
The City of Armadale currently offers rebates on a range of home security measures like sensor lights, keyed window locks, security screens, roller shutters, CCTV cameras, and deadlocks.
Forms can be found on the city's website under 'Security Incentive Scheme 2023/24'.
Residents can also voluntarily register their public-facing CCTV cameras on Cam-Map WA – a secure database where police can quickly and easily access the contact details of anyone who might have footage relevant to a crime.
"To date, the WA Police Force has found locating CCTV cameras to be a time-consuming and resource-intensive task. The objective is to work together with the community to establish an accurate and comprehensive register that identifies the location of as many CCTV systems as possible across WA," a spokesperson for WA Police said.
Snr Sgt Thornton also encourages people to download phone tracking apps on to their mobiles.
He said there can be a latent scepticism of this kind of new technology, especially amongst older generations, but that it has proven to be a valuable resource in detecting stolen phones.
And last, but not least, he said it is imperative that people report crimes and suspicious behaviour to crimestoppers.
"If you think they're up to no good, chances are they are – it's unusual to see people walking down the road with hoods up in the summer months," Snr Sgt Thornton said.
"And it's important that people report to the police – not just on social media. It's great that people hop on Facebook to let their community know, but they also need to pick up the phone and report it. We just don't have the resources to sit on social media and monitor it. And if we don't know about it, we can't do anything about it."
In related news, word on the street is that the Armadale District Police and Courthouse precinct will be opened soon with police due for a potential move-in early next month.
WA Police was unable to confirm an opening date, but a spokesperson has said it is expected the building will be open "in the coming months".