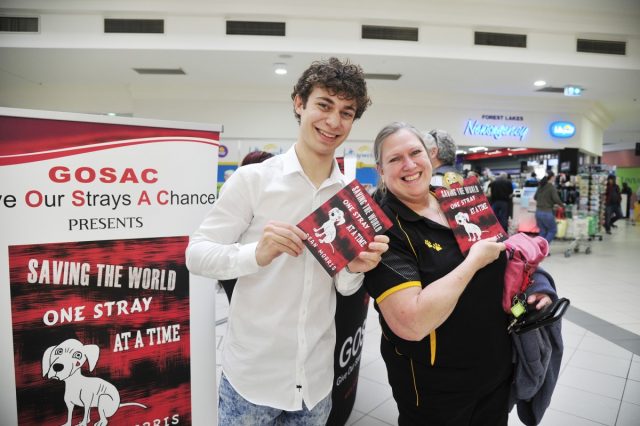 Give Our Strays a Chance (GOSAC) founder, and City of Gosnells' Youth Citizen of Year Award winner, Dean Morris is sitting on top of the world.
Mr Morris held a special event at Thornlie's Forest Lakes Shopping Centre on August 7, celebrating the launch of his first book.
The book, Saving the World – One Stray at a Time, examines the importance of animal rescue efforts and the power of youth.
With support from Community Bank Canning Vale (Bendigo Bank), Mr Morris was able to print and distribute thousands of copies.
Copies of the book have since been purchased by a number of schools and libraries across Western Australia.
"I decided to write about how GOSAC started, and then added in a step-by-step guide on how people can rescue animals and help shelters," he said.
"Every cent from the sale of the book goes back into GOSAC and directly to helping animals.
"It has been pretty daunting writing a book, as an average English student.
"I had to write it whilst studying for ATAR, running GOSAC, then starting my first semester at UWA, and working my first jobs.
"The book is now available for the general public and I am so excited about it, and I would love to share it with the community.
"It has been a wholesome and united effort, and I am so very lucky to have so much backing and help."
Over the past eight years, Mr Morris and GOSAC have collected more than $500,000 in donations for various wildlife rescue organisations.
Mr Morris has met with a number of important community leaders, including local and state government politicians.
He has also been invited to speak at a number of local schools, encouraging the students to follow their dreams.
"So many people say to me, 'I wish there were more kids like you'. Well, there are," he said.
"Everyone can do this…youth have so many ideas, good ideas just waiting to be made a reality.
"I think the natural progression is to show the next generation that there is so much that can be done, and that they can do it too.
"Together, we have so much more power to drive change and literally change the world."
Head to gosac.info for more information about Mr Morris, GOSAC, and the book.