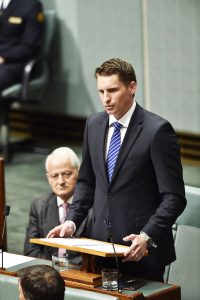 The new member for Canning Andrew Hastie has used his first speech to parliament to tout his experience in the defence force, saying it would help him represent the diverse electorate.
Mr Hastie was sworn in as the 10th member of Canning on Monday following his success against Labor candidate Matt Keogh in the by-election triggered by former member Don Randall's unexpected death on July 21.
A former SAS captain before he quit his role to contest the election, Mr Hastie told members in his first speech yesterday he joined the armed services following a personal connection to September 11, 2001.
"As a student of history, I have always held a very keen interest in the turning points of civilisation," he said.
"A turning point in modern history and in my own life was the attacks on the world trade centre on 11 September, 2001.
"That morning in New York, a 27-year-old Australian woman, Elisa Ferraina, perished on the 106th floor of the northern tower.
"Elisa was the daughter of the late Mrs Julia Ferraina, my second and third class teacher at Ashbury public school.
"Terror had touched my life and entered my personal world. I had to respond."
Mr Hastie said the Australian defence force had invested significant amounts of public money into his training as a leader and he hoped to bring that into his role as member for Canning.
"I have been taught how to build a team, I have been taught how to identify a problem, create a solution and then work closely with others to get things done," he said.
"I have not been afraid to ruffle feathers when needed and I am no stranger to accepting responsibility.
"These are all things that I believe will benefit both the people of Canning and the nation."
He said Canning was diverse and he saw his role as a member of parliament to help the people of Canning go about their business.
"There is no one word that can accurately depict the electorate of Canning," he said.
"One thing is clear: the geography is decisive in the formation of its culture and economic diversity.
"Canning is a thriving ecosystem with hardworking Australians who enjoy their freedom and lifestyles unique to each township.
"The people of Canning generally want to get about their business without undue interference from government.
"I seek to serve them in this way, while acknowledging that government has a vital role to play in improving their lives."
Mr Hastie also thanked the SAS and his Liberal party colleagues who helped him throughout his campaign.
He also honoured Mr Randall's work in the electorate.
"The late Don Randall was the longest serving member for Canning, and it is due to his untimely passing that I am here today," he said.
"Don set a great example of parliamentary service in Canning.
"I encountered Don's legacy wherever I went on the campaign trail.
"I intend to build on it. Like Don, I will put the people of Canning first."
Mr Hastie said he had already started working on his ice action plan he committed to throughout the by-election campaign.