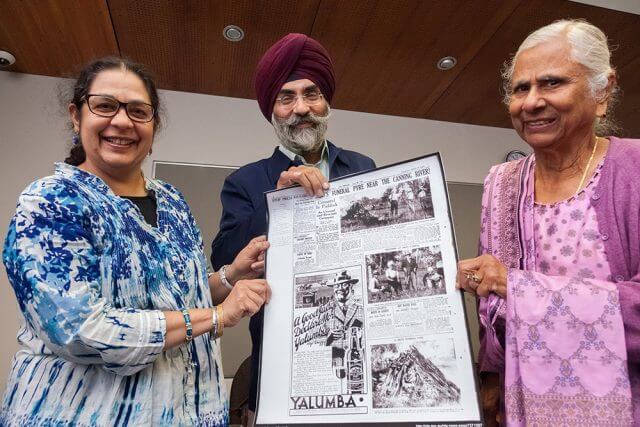 WA's rich Sikh history will come to life thanks to the addition of interpretive panels along the Australian Sikh Heritage Trail in Riverton.
A $150,000 Lotterywest grant was awarded to City of Canning to fund the panels.
Citizenship and Multicultural Interests Minister Mike Nahan presented the grant on Friday.
Dr Nahan said the Sikh community had a significant history in WA.
The panels will guide visitors from the historic WA Sikh cremation site at Adenia Reserve towards the Canning River via the heritage trail.
"Sikhs undertook a vital role in opening up and developing the South-West and Central and Eastern Goldfields regions, contributing to the establishment of the state's mining and farming industries," he said.
"Thanks to this trail and the interpretive experience these panels will provide, the wider community can now learn more about this fascinating part of our collective history."
Australian Sikh Heritage Association volunteer Tarun Preet Singh was excited to see the site recognised.
"This is a unique site not only for WA but the entire country," he said.
"We have all heard about the White Australia Policy but we should also know and learn about this as an example of great historic value, how the needs of minority communities were addressed and protected as well.
"This is an example of respect towards preservation of culture – traditions and beliefs of minorities which makes Australia such a beautiful place on earth."
Mr Singh said the trail would be the hub for a nationwide Sikh heritage trail.
The first Sikhs to settle in WA were cameleers in 1886, then hawkers and storekeepers, farmers and even some wrestlers.
Among the settlers were 19 Sikhs who sailed from Australia and New Zealand to serve as Anzacs in World War 1.
The panels mark the second phase of the project, the third phase will include a statue and an app to locate Sikh heritage sites across Australia.