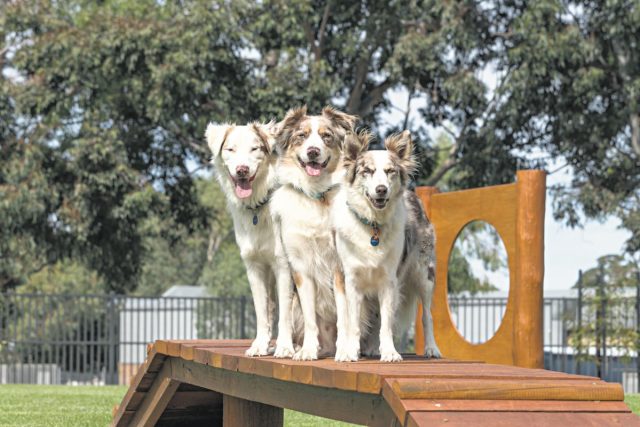 Dog owners of Kelmscott rejoice – a brand new off-leash dog exercise area at John Dunn memorial Park officially opened this week.
Enclosed by a 1.6-metre fence on all sides and featuring separate areas for small, medium and large dogs, the .51 hectare area has seating, a sand pit, footpaths, biodegradable dog waste bags, water fountains and agility equipment.

On March 16 Armadale mayor Henry Zelones, flanked by Members for Burt and Jandakot Matt Keogh and Yaz Mubarakai, residents and their eager four-legged friends, cut a ribbon open the $314,000 development.
Mr Zelones said he was excited to have finally opened the space to the public.
"As soon as I got here I said 'wow, this is good'," he said.
Despite concerns in February from one contractor involved in the park's development that the site was contaminated, as the site was a rubbish tip until the 1970s, Mr Zelones wanted to ensure the public that the area was safe.
"All of the precautions which had to be taken, we did," he said.
Parks Services manager Paul Lanternier said the city would continue to ensure the site was safe for people and pooches.
"Everything will be sifted and checked and balanced and cleaned very regularly," he said.
"It'll have a very high level of service put into it."
Mr Lanternier said the city would maintain a healthy environment for pets by regularly cleaning water bowls and footpaths.
The park is only supposed to be accessed during daylight hours, and determining what makes a dog small, medium and large dogs is not specified on park signage.
One resident has since complained gaps in the perimeter fence were wide enough for her small dog to squeeze through, while others have questioned why the medium dog size exercise area was the largest of the three.
The City of Armadale was contacted for comment.