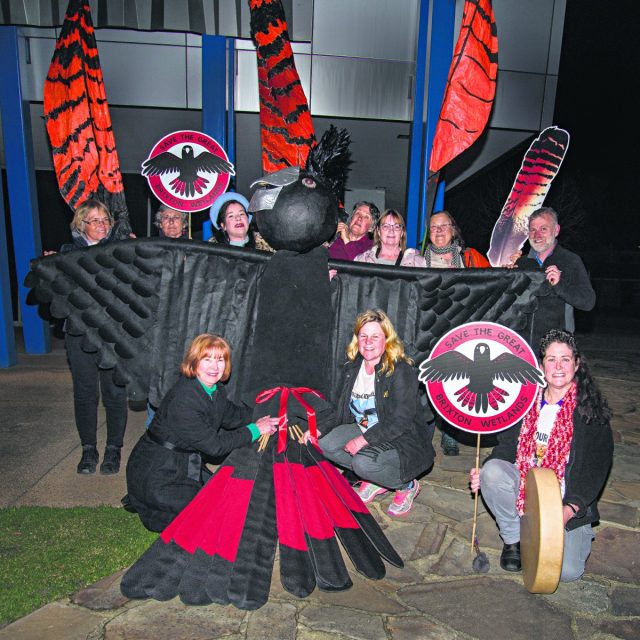 An environmental group dedicated to protecting Kenwick's Brixton Wetlands has made a strong statement in council once again, arguing they have received no guarantee of its protection from council.
Members of Save the Brixton Wetlands attended the September 11 City of Gosnells council meeting following on from a similar demonstration outside the Environmental Protection Authority on National Threatened Species Day.
The brunt of the group's argument lays around plans for a drainage system in a neighbouring development run by Linc Group, which group organiser Paddy Cullen said would devastate the highly biodiverse wetland.
The group have been protesting with a giant Karaak or Forest Red-tailed Black Cockatoo, which portrays the threatened roosts in the wetland area.
"The drainage system they want to install will dry out the wetland and cause ecosystem collapse," she said.
"We have been doing regular protests at the council meetings, four to date, and have also made a giant Kaarak out of more than 40 people.
"That resulted in the chairperson making a statement to say that they would look at the area more closely but they are only looking at some part and not the whole thing.
"So far no commitment to change the damaging drainage system and save the Kaarak roost, which is one of the last four great roosts for this threatened species left on the Swan Coastal Plain, has been made."
The City of Gosnells has ostensibly supported the preservation of the wetlands with an excerpt on the city's website stating that it is one of the most important conservation areas on the Swan Coastal Plain.
Yet Ms Cullen and the rest of the group felt no clear communication has been forthcoming.
"The professors from the Beeliar Group who support us include the current and a former WA scientist of the year, and we have also gained support from Dr Josh Byrne from Gardening Australia and Professor Tim Flannery, a leading conservationist and an Australian of the Year," she said.
"The Beeliar Group give a very different view to the council in what is going on.
"One curious thing is that the council keeps claiming they are doing what we want in terms of drainage but that is a complete lie.
"They are just using conservation terminology to describe their very damaging system."
The City of Gosnells has stated that any development undertaken in Gosnells would have to stringently meet legal and government requirements.
Chief executive Ian Cowie said the city understood the vital importance of the wetlands.