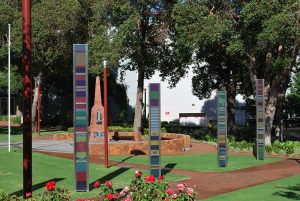 Armadale RSL members said vandalism of the military ribbons in memorial park showed 'utter disrespect' for military personnel and urged anyone with information to come forward.
Vandals smashed five of the glass tower ribbons on the weekend of October 24 and 25, which forced the council to remove all 12 because of safety fears.
The removal meant the ribbons were not in place for the City of Armadale and the RSL's Remembrance day service last week.
Armadale RSL president Ken Hepburn said the vandalism showed the offenders had no respect or understanding of former and current military personnel. "It shows a lack of respect because those ribbons represented the people who have gone overseas to keep this country free," he said.
"To do that they're showing their inability to understand what people have gone through for them to have the lifestyle they've got now.
"We were really upset over at the RSL and some of the boys were pretty angry."
Armadale local policing team sergeant Ian Bennett said police had collected the CCTV footage and were attempting to find out who the person or people of interest were but he urged anyone with information to contact police.
Call Armadale police on 9399 0222 or police on 131 444.