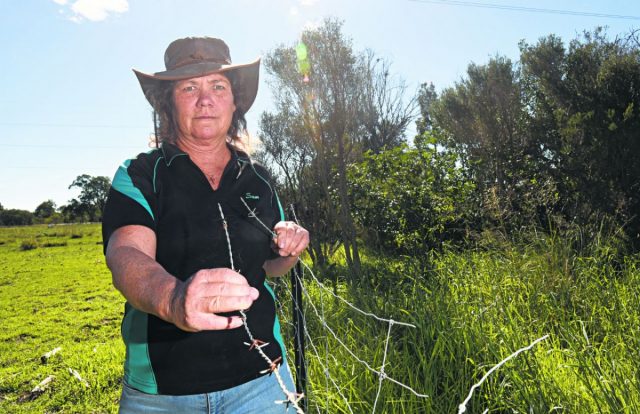 Samantha Richards has had enough of hoon motorcyclists.
Early last week she was forced to corral three horses including a two-year-old foal off Tonkin Highway with the help of rangers following their escape.
The horses ran off into danger after people on trail bikes allegedly cut holes through her fences – one on either side.
"It's not easy to do," she said.
"The metal on the fence is pretty thick, they can't just come across and do it with small pliers.
"You'll need proper bolt cutters to get through it."
Ms Richards received the callout from rangers early Tuesday morning.
Two sections of fence, one on the side of Champion Drive, the other abutting a neighbour's property were cut in multiple sections which allowed for motorbikes to drive through.
Ms Richards also discovered multiple motorbike trackmarks across her property.
She later found a third hole in her fence, one which was not finished and she was worried the riders would continue to tear through her land.
"It's dangerous, they're doing it in the middle of the night," she said.
"If they keep doing it, it's only a matter of time before someone ploughs straight into a motorbike or a horse on the highway."
Ms Richards said she had received similar reports from residents and paddock owners after going to social media with her issue, though no one could explain to her exactly why the riders were travelling through her property.
"Everyone kind of has an idea about it but no one's sure," she said.
"Obviously there have been issues with trail bikes and that kind of thing in the past.
"But I don't know, all I know is that it should stop."
Ms Richards said her reason for going to the media with her story was to raise awareness of the issue especially with those who own paddocks.
"You know, a lot of people just think it's cattle down here and that they're fine with all the traffic," she said.
"But there's horses, sheep, llamas, alpacas, all sorts down here.
"We all look after our animals because we care about them and we don't want to have to worry about them escaping on to the highway in the middle of the night."
Anyone with information was encouraged to call Crime Stoppers on 1800 333 000 or make a report online at crimestoppers.com.au.