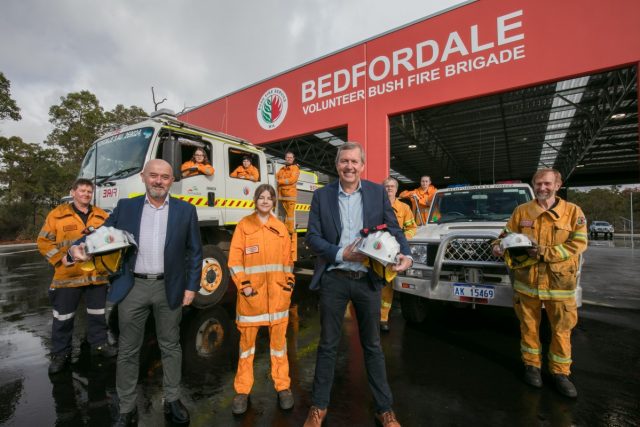 The Bedfordale Volunteer Bush Fire Brigades new facilities are now equipped with picnic tables.
During a visit from the Minister for Emergency Services Reece Whitby and Member for Darling Range Hugh Jones on July 7, the brigade received $5000 for the new tables.
The funding is part of the state government's $310,000 funding boost to support the state's emergency services volunteers.
The funding is in addition to $15 million set aside for state-wide upgrades to emergency services facilities under the state government's COVID-19 WA Recovery Plan.
Mr Whitby said the funding highlights the government's commitment to investing in emergency services and supporting local volunteers.
"Volunteers generously give their time to keep us safe and deserve the very best facilities to assist their important work and engage with their local communities," he said.
"Government has provided more than $300,000 to support emergency services in local communities.
"The funding will pay for crucial items for volunteer firefighter and SES crews, including training equipment and facility upgrades."
The Bedfordale Brigade opened their new $1.7 million facility in May, which is significantly larger than their former headquarters that they built more than 35 years ago.
Mr Jones said he was glad to deliver additional funds to the brigade.
"It was great to again visit the Bedfordale Volunteer Bush Fire Brigade with Minister Whitby and to meet more of the hardworking brigade members and cadets," he said.
"The brigade's new facility is the result of their strong advocacy as well as their massive fundraising efforts and I am glad to be able to deliver additional funds for new picnic tables which will make life more comfortable for the volunteers."