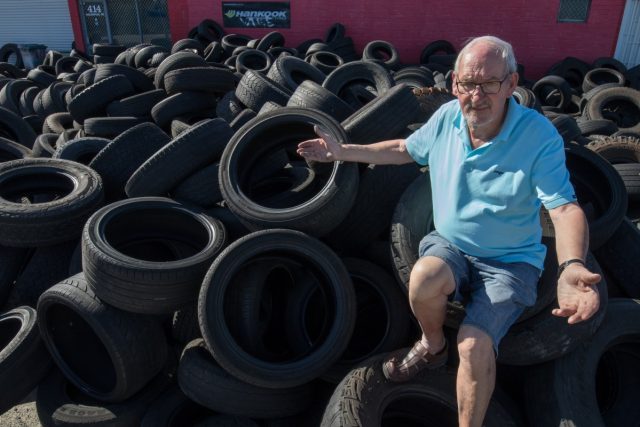 What do you do with more than a thousand tyres?
It's a good question, but property owner Roy Burton would rather not answer that himself.
Right now, two properties he owns on Welshpool Road are home to 1,395 tyres of various uses and sizes.
The trouble is no one can agree on whom they belong to.
Mr Burton said the properties have been closed since their previous tenant, a tyre fitting business, shut up shop just before Christmas, and that's when his problems started.
"The units were operated as a tyre sales and fitting workshop until the business closed just after Christmas," he said.
"The operator of the business engaged a person named Nik Pomare, who claims to be a tyre recycler, to clear used tyres from the premises.
"Instead of that he has been dumping used tyres on the premises, now totalling well over 500 tyres."
Mr Pomare purportedly runs a tyre shipping and exporting business, but Mr Burton alleges he has been using the Welshpool property as a dumping site.
"He is operating illegally in that he is trespassing on my land and using it as a dumping ground for the waste tyres," he said.
"I have contacted the City of Canning and also the police, but neither can do anything because it is private land."
Mr Burton also alleges that Mr Pomare is using multiple properties, including several in Armadale, as dumping sites for tyres.
"He has filled these up with tyres," he said.
"He doesn't have a Department of Environment license and is storing the tyres illegally."
Mr Pomare refused to give a statement to The Examiner, other than to say he believed Mr Burton was blaming him for his own issue and that he was not responsible for dumping the tyres at the site.
"Short end of the stick those are his tyres, he wanted me to remove them and take the blame," he said.
Mr Burton has been in contact with the Department of Environment and it is believed they are looking in to the matter, which has prevented him from leasing the properties to new tenants.
"As well as illegal dumping, the tyres constitute a fire hazard and if the tyres get filled with water they become a breeding ground for mosquitos," he said.
"I understand that I am not the first land owner to have suffered by Pomares' actions.
"I am saying this in the hope of exposing him and to hopefully bring his actions to the attention of tyre fitting businesses, who pay him to remove tyres."
Mr Burton said it would cost him more than $10,000 to remove the tyres himself, which he is doing due to the need for access to the properties.