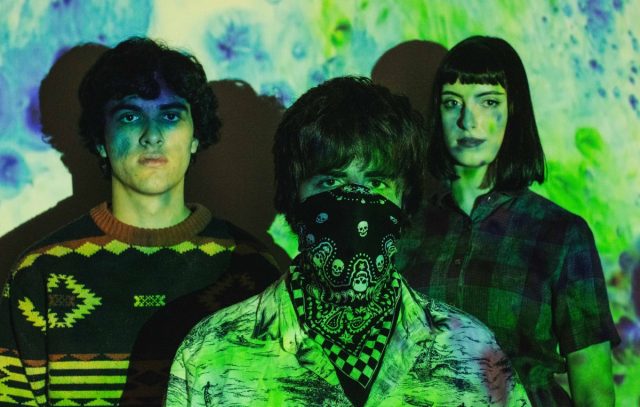 Young musicians Yomi Ship will return to their roots when they perform at the Far Out Fest as part of the Armadale Arts Festival on May 1.
The trio Nick Osborne, Jarred Osborne and Jade Champion, formed the band Yomi Ship in 2016.
Music inspired by The Mars Volta and early Pink Floyd has led to a unique branding for the group, who label themselves as a psychedelic progressive instrumental band.
Fusing live music with psychedelic visuals, fragrant scents and 'near dream state soundscapes', the trio make a live atmospheric experience that activates all senses.
Their latest headline, the Far Out Fest, takes them back to their roots, as they grew up and originally formed in Armadale.
Drummer Nick Osborne said it's been some time since the group were last doing things locally around Armadale.
"It's good to come back and revisit our roots," he said.
"It's really nice to get back in touch with it all and help get the community together."
The production for the Far Out Fest will see Yomi Ship collaborate with Explosive Dance & Theatre Co as well as Frankensound's Roly Skender who is an award-winning audio-visual artist, musician and producer.
The performance itself is based on EP 'Pyramids Of Yonaguni' released by Yomi Ship in 2019.
The EP was inspired by a series of mysterious pyramids off the coast of Japan, Mr Osborne said the collaboration expands on this theme.
"The EP follows a theme about the Pyramids of Yonaguni, when they were built, the history behind it and also what else could there be lurking underneath there?" Mr Osborne said.
"Our collaboration with the Explosive Dance & Theatre Co has helped build a conceptual idea that runs through the whole set.
"There's a mix of band and performance; some individual and some together, exploring the different themes of what else could be existing underneath the pyramids. It ties it all together, basically."
Mr Osborne said secret artwork that no one's ever seen before was provided to Mr Skender, who's creating an underwater wonderland.
Produced with funding from the Department of Local Government, Sport and Cultural Industries, the Far Out Fest performance will bring to a close the Pyramids Of Yonaguni era for Yomi Ship.
"We're hoping to engage the audience for an entire performance," Mr Osborne said.
"There's always going to be something happening that will take you on a journey and open people's interpretation of what they perceive the performance to be.
"Hopefully they'll walk away with a little more appreciation of the arts, for both dance and music, showing that you can combine the two."