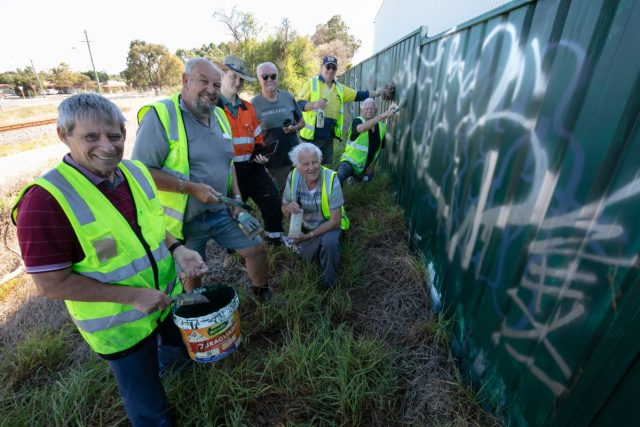 A dedicated group of locals volunteer every week to rid Armadale of graffiti and refresh vandalised areas.
The Graffiti Removal Team take to the streets on Wednesdays and Saturdays to refresh the City of Armadale, which is relatively graffiti free due to their efforts.
The team began in 2008 and receives the full support from the council, who assist in funding the initiative.
Volunteers drive one of the city's fleet trucks around the local area to paint over graffiti that has been reported or that the volunteers find.
Pete Yetton has been part of the group for 15 years, driving the truck around on Saturday mornings with the Saturday crew.
"The public often reports graffiti to us and we go to clean it off fences, walls and laneways," he said.
"Otherwise we drive around and whatever we see that has graffiti, we just clean it off."
City of Armadale mayor Ruth Butterfield advocated for the initiative before it began in 2008.
"When the group first started, council agreed to supply and maintain a specially fitted out van, containing all of the required equipment, chemicals and paint," she said.
"I volunteered cleaning graffiti for the first few years of operation and used to drive the van around to get to the graffiti.
"As more volunteers came on board, I was able to step back from the hands on work.
"Several councillors have volunteered with the group in the past including former councillors June MacDonald and Guenter Best."
Colin C            ampbell is a current volunteer who has been with the group for the last 12 months.
Mr Campbell said getting rid of graffiti in Armadale is a key step in balancing the scales against the negative stereotype that has been inflicted on Armadale.
"It's effectively a men's shed for a lot of the guys in the group," he said.
"Somewhere they can speak candidly and it offers them some form of companionship which is exactly what men's sheds do.
"Men's sheds build things, we put paint on stuff."
Volunteers are sourced through existing group members and the city's volunteer referral service.
The group remove graffiti from infrastructure such as fences, walls and laneways.
According to the City of Armadale, the Graffiti Removal Team reduces the amount of money the city would spend on professional contractors whilst also assisting in creating a vibrant and safe space.
The volunteers also take photo's using an iPad to provide relevant information to the city to upload into the WA Police database, and to co-operate with authorities to identify offenders.
The Graffiti Removal Team initiative costs the City $10,000 to $15,000 annually including the cost of materials, keeping the vehicle running and maintenance.
Residents are encouraged to report graffiti on City-owned assets by calling 9394 5000.