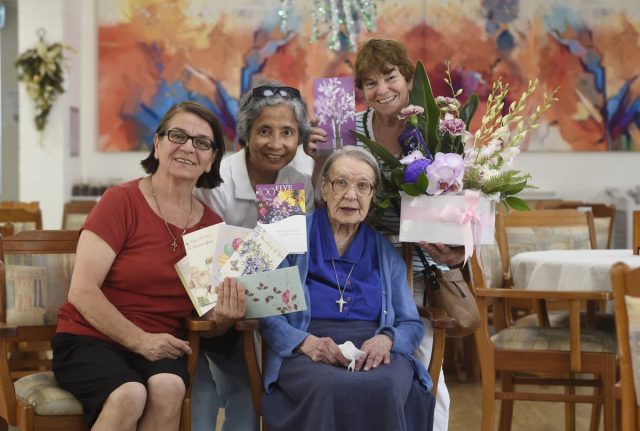 After living a remarkable life full of devotion, Katherine Mladinic, most known as Sister Canisius, died at St John of God Hospital on the evening of January 21.
She had been hospitalised briefly for a diagnosis and was found to have slight pneumonia but was expected to be discharged after a short stay.
Later that evening, she slipped away quietly and those in the room with her didn't realise at first that she had gone.
Earlier this year Sr Canisius celebrated her 105th birthday along with some of the sisters of St Joseph of the Apparition and residents and staff of Joseph Cooke House.
St Joseph of the Apparition Sister Elizabeth Sanders was asked to give a eulogy for Sr Canisius and said it was almost a life long task.
"Despite her great age, her death came very unexpectedly," she said.
"She was very active where anyone needed help of any kind, any nationality, particularly migrants, refugees, families and the sick and they always remembered her.
"If she heard that someone was in dire straits, she would move heaven and earth to get to see them.
"She was indiscriminate in those she helped…she seemed tireless and branched out in all directions, collecting school materials to be sent for children in India, food for people who had none, visiting the sick, the lonely and the bereaved, leading numerous rosaries and prayers at funerals, visiting the hospital, which was one of the last things she had to reluctantly give up."
Sr Canisius was born in Croatia in 1914 and was brought up by her grandparents until she was six-years-old, as her mother died giving birth to one of Sr Canisius' siblings.
She said that her father hoped one child would become a priest but her only brother wasn't interested, so when Sr Canisius told her father she was thinking of becoming a practitioner of religion, he was overjoyed.
After joining a missionary congregation, Sr Canisius began her training as a Sr of St Joseph of the Apparition in Croatia and when she turned 18 she moved to France in 1933.
Sr Canisius was then given the opportunity of coming to Australia to help the Croatian population in Fremantle.
By then she had already learnt French, was learning English and eventually learnt how to play the violin professionally.
She taught the violin to hundreds of students for about six years.
Sr Elizabeth also said it should be noted that in the early days in Fremantle, teaching sewing and music was how the sisters managed to survive.
Not everything was easy for the sisters as they even had to cook their lunch on two pieces of asbestos supported by two bricks for about five years, according Sr Elizabeth in her eulogy.
"Apparently they used to carry a little case with them to school, because when the people had a few spare vegetables they would generously give them to the sisters," she said.
"So even though the people of Spearwood were battling to manage in those days, Sr Canisius told us that they generously helped the sisters in every way they possibly could."
Sr Canisius stopped teaching and went full-time into Pastoral work around 1979.