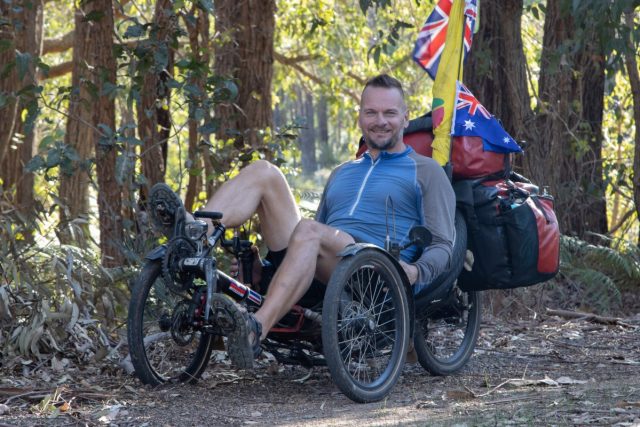 For the past five years, Darren Broadhurst has travelled more than 35,000 kilometres across the globe with little more than a trike and a 20kg bag of belongings. 
After serving with the British Army for three decades, the keen traveller sold his possessions to embark on the adventure of a lifetime – a process he describes as having been very cathartic.
The 51-year-old started his world tour in London in 2015 before backpacking through Scandinavia and Iceland for eight months.
Mr Broadhurst and his then partner began cycling on a tandem recumbent around Spain, Portugal and France before selling their bike and trading them for recumbent trikes.
Since then, he has cycled down through Europe towards Turkey and Central Asia, before travelling to India, flying to Japan and climbing Mt Fuji.
From there, Mr Broadhurst travelled to South Korea, Philippines, Borneo, Brunei, Malaysia, Singapore, Thailand, Indonesia and Australia – documenting his travels through his blog entitled 'Every Which Way But Lost'. 
Mr Broadhurst had been travelling WA, cycling the 1000-kilometre Munda Biddi Trail from Mundaring to Albany and then on to Ravensthorpe before being turned away by officers as the state government enforced the regional border closures in the wake of the COVID-19 pandemic.
For the last six weeks Mr Broadhurst has been residing in Jarrahdale, enjoying the tranquility of Perth's south-east until he recommencing his trip on Friday.
"Every day has been a different adventure and, more than anything, I've been overwhelmed by the generosity of people," he said.
"It's a great way of travelling and you're really able to immerse yourself in the culture of that place.
"It has been very fortuitous that I've been able to stay here in Jarrahdale while all of this is going on." 
After crossing the Nullarbor, Mr Broadhurst hopes to reach Adelaide, the Great Ocean Road, Melbourne, Sydney and Brisbane before travelling New Zealand and North and South America.
But with his visa due to expire on August 8, Mr Broadhurst is now in a race against time to achieve his goal of travelling Australia. 
In total, Mr Broadhurst anticipates the trip will have taken him close to a decade.
Despite having travelled the globe, Mr Broadhurst says the trip has forced him to slow down and appreciate life.