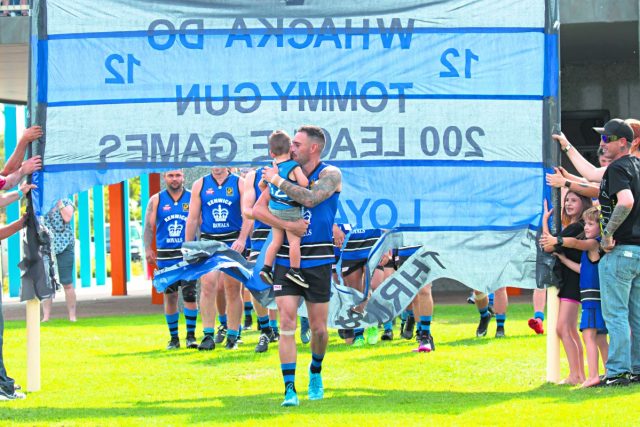 Tom Bryant achieved his dream last weekend as he took to the field for the Kenwick Football Club.
At the age of 32, not only did he play his 200th game for the club he grew up playing juniors and colts with, he got to run through the banner with his son Archer, fulfilling what he described as an adult dream.
"That was really special and to be honest if we're talking about highlights of my career, that was a really special moment," he said,
"I got to play the game with my younger brother Jim as well and it's what footy is all about."
Over the course of his playing career, both on and off the field, Bryant has done it all.
After 161 junior games and 49 Colt games for the club before making his senior debut in round 3, 2009.
He played in Kenwick's 2014 premiership and was captain of the League side from 2016 to 2020.
He was made a life member of the club in 2018, served as Vice President of the committee from 2011 to 2014 and he has been the MC of the Ashworth Medal Night for a decade.
Coaching the junior sides, however, is where he believes he has the most impact.
"With the junior side of things, the development of the players and watching them grow up is really rewarding.
"You want these kids to stick with the club, it's something that we've really focused on. They could go anywhere but we instil that one-club player mentality and that's something that's really special, you can retire as a one-club player."
While he believes his playing career may end soon, Tom's had 30 starts in harness racing as a reinsman, and said that is quickly becoming a passion, but he said that he'll always be Kenwick man.