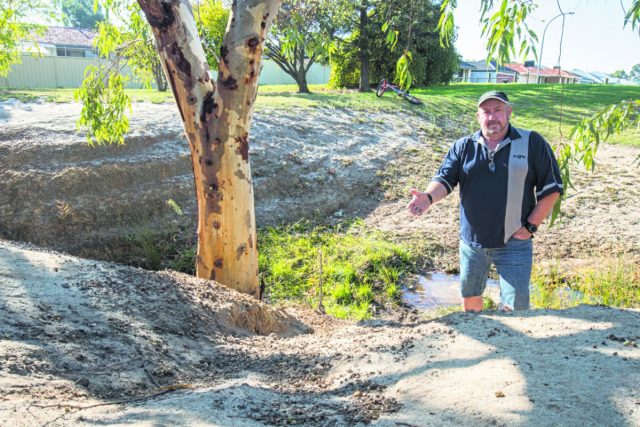 One Seville Grove resident said he is fed up with the noise, damage and fear that has become a nightly occurrence in his neighbourhood.
Karlton Kavanagh has lived in his Solva Place property with his wife Kim since 1999, and said the recent use of unlicensed dirt bikes within and around their street has driven them and their neighbours to the edge.
"It has really gotten to the point where it feels like the baseball bats might come out," he said.
"I know it's not good – we don't want to do anything rash – but it's really pushed people to their breaking point."
Mr Kavanagh said people from a number of households from his and surrounding streets are responsible for driving recklessly around the suburb on the bikes.
The residential design of the suburb – cul-de-sacs, pathways and parklands, including the creek behind Mr Kavanagh's house – makes it a potential playground for motorbike riders.
"They can go up a footpath, they can go in between bollards, they can cut across the creek," he said.
"They tear up form the creek and straight up our street, and we're not talking slow either. Sometimes they don't even slow down, then go straight across Poad Street.
"And in terms of thoroughfares, that street is one of the busiest in the area during peak hour. There's schools and shops all around here, it feels like it's just a matter of time until there's an accident."
Mr Kavanagh, a security system installer by trade, said he has captured the behaviour on CCTV at all times of the day, from one o'clock in the morning to after school in the afternoons.
"It was six o'clock in the morning when we saw them this morning, but last week it was one o'clock in the morning, before that 10am, before that two in the afternoon," he said.
"Pretty much pick a time, and these people are coming down the street, doing wheelies and tearing up everyone's lawns."
Mr Kavanagh said he is in almost constant contact with the police, who regularly send patrols into the area, but are limited in how they can apprehend the riders.
"We've rung the cops so many times, but by the time they get here 20 minutes later they're long gone," he said.
"They're limited to what they can do, because once they hit a certain speed they have to cancel the pursuit, and these jerks know it.
So they can go flat out, coppers fade off in the background, and then they disappear into the residential streets."
There's one very simple solution, according to Mr Kavanagh, to at least the immediate problem at the end of his street: a chain and a padlock.
"That's all it will take," he said.
"Put a chain across the bollards in front of the park. Then, if you don't stop them, you'll at least slow them down enough to catch them. Because at this stage, they're tearing right across the creek bed, and then the police have no chance."
Mr Kavanagh and his neighbours hope changes, such as the establishment of the Armadale Police Complex and development of Armadale Police Force, will help stem what he sees as a wave of recent antisocial behaviour.
"The police lack resources," he said.
"I think the Armadale Police have a couple of pursuit cars, and they're useless here where they're outrun by the bikes.
"There's no blame here, but something needs to change."