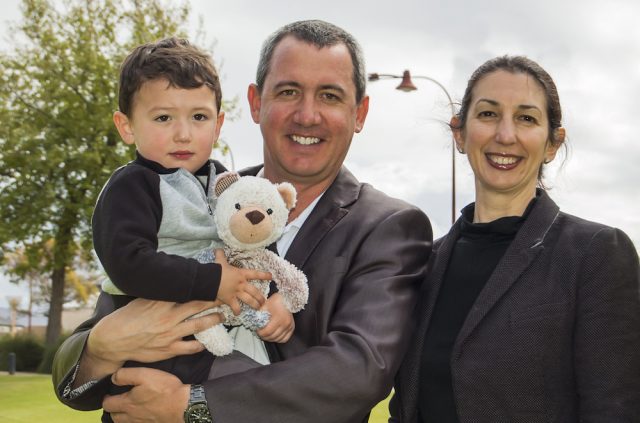 Two City of Gosnells Parks and Operations team members have taken community service to the next level after searching for and retrieving a two-year-old boy's treasured teddy bear last week.
A two year old boy lost his favourite teddy bear when he was out with his grandmother. 

Two City of Gosnells employees came to his rescue searching seven drains.  

The teddy has great sentimental value, as Noah has had it since the day he was born and he has slept with it ever since. 
Noah was out with his grandmother Jeanette Verdini, who had taken her grandson out of his pram near their home in Southern River, when he dropped his teddy bear down the drain.
Unable to access the drain and retrieve the teddy affectionately known as 'Tedda,' Noah's mother Lorraine Wellington and his grandmother were distraught about what had happened.
On October 2 Mrs Wellington was driving past Casablanca Reserve, Southern River, not far from where the bear was dropped, when she saw irrigation tradesperson Peter Grinnell working in the park.
She said she stopped her car and approached him to see if they could try to locate Tedda, and he contacted his superviors Ray Nawell.
The two men searched seven drains before they found the beloved teddy bear prompting Mrs Wellington to write to the city and acknowledge what she described as the "exceptional customer service" of Mr Grinnell and Mr Nawell, who she says went out of their way to reunite her son Noah with his teddy.
Mrs Wellington said her son was given Tedda on the day he was born and he has slept with him every night.
She said the teddy bear had a lot of sentimental value and the family were devastated when they thought they would not be able to get it back.
"We've only lived in the area for about six months and initially I gave Peter the wrong street name where mum had been walking with Noah.
"Of course Ray couldn't find the bear when he looked."
"Peter had told me to call him any time day or night once I had the right information, and a couple of hours after I'd texted him the right address he sent me two photos of Tedda – before and after he was rescued from the drain.
"We were all so relieved."
Mrs Wellington said she couldn't believe the men had been willing to go out of their way to make a little boy happy.
The two men were modest about their efforts and told Mrs Wellington they didn't need any thanks, but she was determined to make sure the City of Gosnells knew what they had done.
Mr Grinnell said there was no need for any fuss.
""I'm just glad the whole story had such a happy ending and that the little boy was reunited with his teddy bear," he said.
City of Gosnells chief executive Ian Cowie said customer focus was one of the core values, which guided all staff.
"It's great to know that those values are being demonstrated in our community," he said.
"I really appreciate that Mrs Wellington got in touch to let us know about this positive experience with our staff".