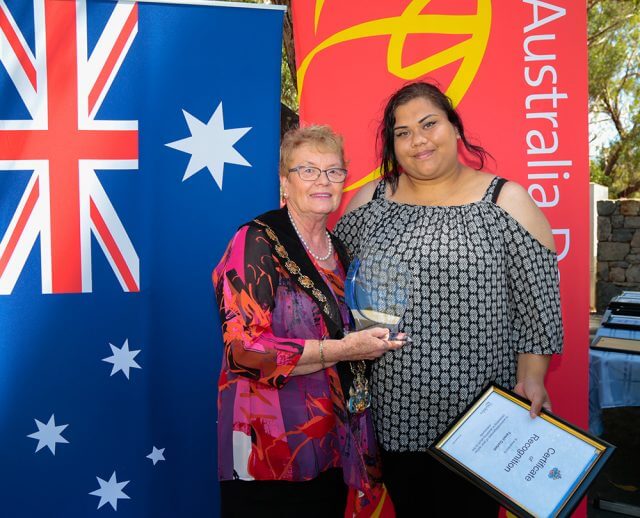 A Gosnells teenager has been recognised for her work with indigenous youth after winning the Premier's Australia Day Active Citizenship Award in the under 25 category.
Taneil Garlett volunteers with indigenous education program Follow the Dream as well as the Wirrpanda Foundation, which works to improve the quality of life for Aboriginal people and reduce the gap between Aboriginal and non-Aboriginal people.
The 17-year-old said she was shocked but pleased to receive the award.
"The other two girls in the category have done some amazing things for the community so it was absolutely shocking but it was really nice to win it," she said.
Taneil said she started volunteering with Follow the Dream in 2012, which allowed her to become more involved with the indigenous students at Southern River College, which she attended until graduating last year.
"I was exposed to a lot of their problems and I guess I couldn't do much to help because I was still a student but I could be a mentor to them so I tried to do that," she said.
"I like doing it because I know I can help people out and be a good role model for younger people.
"You see a lot of younger kids get into trouble so it's good to be able to have someone like them who's found their way out of it and is doing okay."
Taneil was one of a group of individuals and organisations recognised for their work to improve the community at the City of Gosnells' Australia Day Big Breakfast in Centennial Pioneer Park.
Stephen Chynoweth received the Active Citizenship Award for his commitment to supporting young people.
He is a long serving volunteer of the Gosnells Police and Citizens' Youth Club and has assisted with youth programs and centre maintenance.
He has also mentored hundreds of young people, including those with a disability.
The Australian Arab Association received the Active Citizenship for a Community Group Award for its work in facilitating multicultural programs and services like Harmony Day and the Eid Festival.
Forest Crescent Primary School was acknowledged for its conservation and environmental program, which focused on preservation, sustainable awareness and education.
Teenspirit received the Safe City Constable Peter Ball Memorial Award for facilitating a recreation program for young people with a disability, their families and carers.
Gosnells PCYC was acknowledged for its Full Throttle Program, which involved re-building and re-homing bicycles.
Chris Beckett won the Biennial History Award after recording the history of the Darling Range Wholesale Firewood Supply Company.
For more information about the awards visit gosnells.wa.gov.au or call 9397 3000.