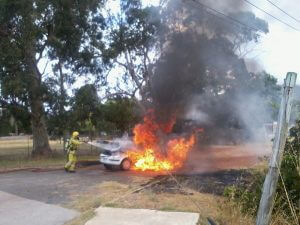 A learner driver and instructor narrowly escaped injury in Kelmscott after an electrical fault turned the Holden Astra they were driving into a fireball.
The driver reported the car was on fire at 11.12am on Albany Highway near Page Road, Kelmscott on January 20.
The fire was brought under control by 11.26am and extinguished at 11.53am.
A Department of Fire and Emergency Services spokesman said the fire destroyed the car causing more than $5000 damage.
He said crews suspected it was caused by an electrical fault behind the car's dashboard. The incident caused traffic chaos on Albany Highway after firefighters restricted traffic.