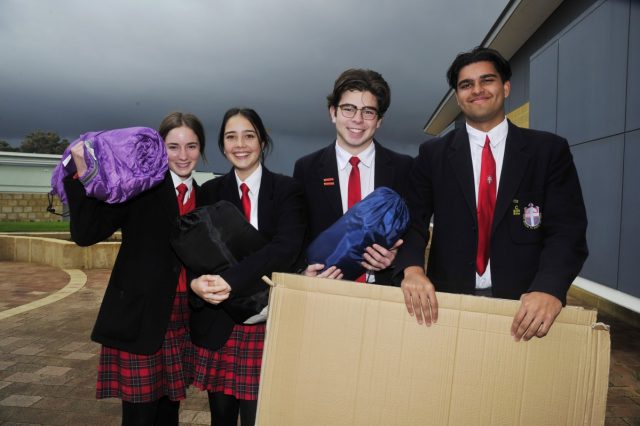 A group of students will swap their Saturday night plans with friends for a sleep out under the stars this month to shine a light on the homelessness issue in Western Australia. 
About 16 students from John Wollaston Anglican Community School will be taking part in this year's Anglicare WA School Sleep Out, which will see them give up home comforts to sleep a night out in the cold amongst many others at Optus Stadium. 
Principal Anne Ford said the experience will help students gain an understanding of what it means to be homeless, just like the 9000 others who were homeless on any given night. 
"They will be empathetic towards circumstances that can lead to a person becoming homeless but also how difficult it can be to pick yourself back up and move forward," she said. 
"I also believe students will realise how hard Anglicare works to help the plight of the homeless and what a valuable role Anglicare plays in supporting those in need for a variety of reasons in our wider community." 
Year 11 student Matthew Ford said he is looking forward to taking part in the sleep out for the first time. 
"In a world where things are changing so quickly and things often go unnoticed it is ever more important to have events like this," he said. 
"Homelessness is a more significant issue then most people know especially in young people. 
"Having the school sleep out is an excellent way to highlight this issue as it educates the adults of tomorrow about the challenge of homelessness while raising a reasonable sum of money to help support Anglicare's work with the homeless." 
This year's Anglicare WA School Sleep Out will take place on August 16. 
To donate to the John Wollaston Anglican Community School team visit the Anglicare WA School Sleep Out website.