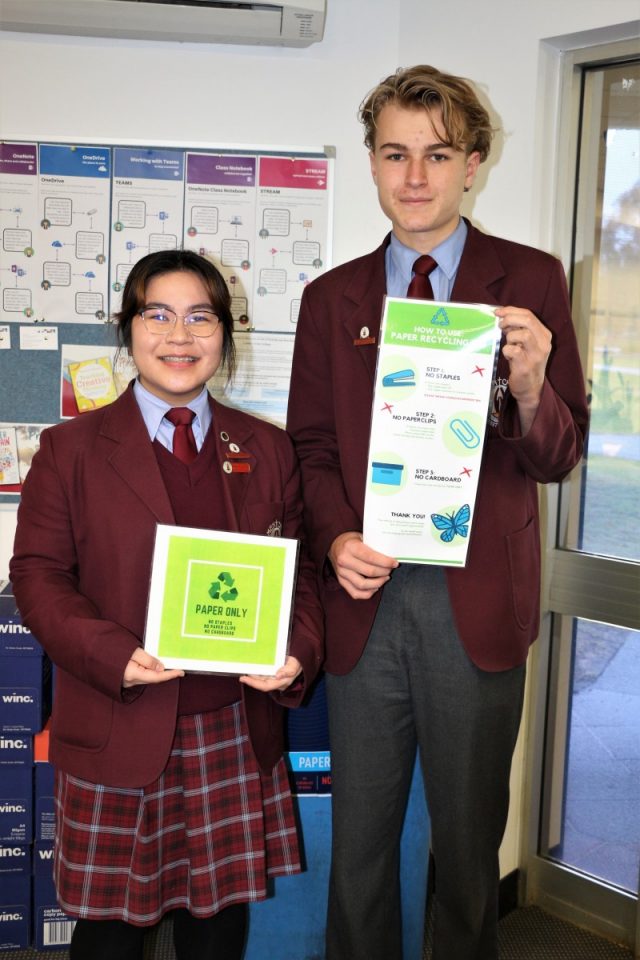 Lumen Christi College students are committed to focussing their efforts on the issue of sustainability, with the recent establishment of 15 additional paper recycling stations around the college.
Year 11 student, Sofia De Guzman, said she felt strongly about the importance of sustainable practices.
"Living my adolescent years during this unprecedented time has truly opened my eyes to the state of the world we live in and the future it holds", she said.
"Increasing our paper recycling at the college, as small as it may seem, was a big accomplishment.
"My hope is that this sustainable practice is adopted by everyone, and that in future generations of students, they recycle out of habit and continue to look for ways to reduce their footprint on our environment."
Fellow year 11 student, Jake Taylor, also feels a responsibility to future generations.
"I feel that it is my duty as not only a student, but as a person who will live in the consequential future of our actions, to seek to better our handling of resources, however small that contribution may be," he said.
Coffee pods are also collected and recycled, as are batteries and printer cartridges.
There were also 363 solar panels installed at the college earlier this year, reducing energy usage by 75 per cent.
Next on the students' sustainability agenda is the creation of recycling stations for pens, textas and oral care items such as toothbrushes.
The collection containers will be created using the college's 3D printers, which were recently used to create face shields for health care workers amid the coronavirus COVID-19 pandemic.