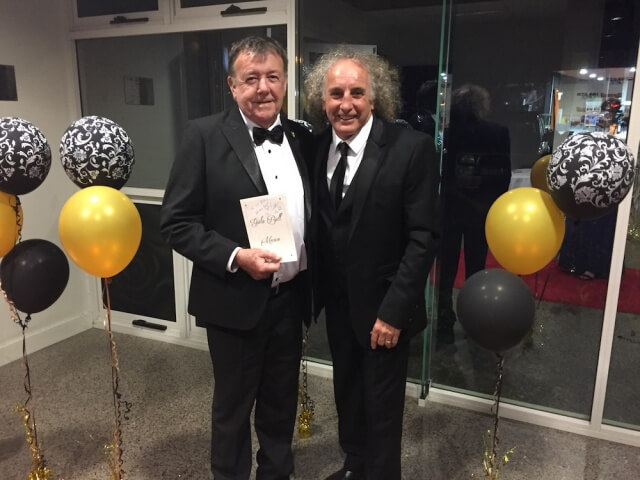 The Mundijong Community Resource Centre held its first ever gala ball on March 25 at the Byford Town Hall.
More than a 100 people attended the Hollywood themed night including president of the Serpentine Jarrahdale RSL Rick Giblett.
"It was a great night," he said.
"Everyone seemed to be enjoying themselves and I was sat at the Hugh Jackman table."
Mr Giblett said the RSL, in partnership with a travel agency, donated a $500 travel voucher.
"The RSL also donated $5000 to go towards the community centre," he said.
"I think our contribution was quite welcomed."
Community resource centre manager Alana Rosenthal said there were many highlights of the night.
"We had a fashion parade with garments made from local artists and designers," she said.
"We also had a solo musician James Wilson play the harmonica, didgeridoo, guitar and e-drums.
"He also sang."
Ms Rosenthal said the special guest of the night and the master of ceremonies was Brownlow medal winner John Platten.
Mr Platten played for Hawthorn and Central Districts in the SANFL in the 1980s and 1990s and remains a popular and respected figure in both clubs.
He was also inducted into the AFL hall of fame.
Mr Giblett, who has been a life long AFL supporter, said it was amazing to meet Mr Platten.
"He was a real gentleman," he said.
"He's from back in the day and champion footballer.
"He was an entertaining speaker and it was great to meet him."
Mr Giblett said the only disappointment of the night was the absence of Shire of Serpentine Jarrahdale council members.
"This was the first time the resource centre held this event," he said.
"It was disappointing to see that no council members were there to support the community."
Shire president John Erren said shire officers were sent information on the gala ball to promote through the networks which the did but no official or personal invite to the ball was sent to him or other councillors informing them about arrangements for the purchase of tickets.
"An enquiry was sent to a shire officer 10 days before the gala ball asking if the shire was interested in attending the ball," he said.
"CEO Kenn Donohoe advised that there were no plans to do so considering the short timeframe and considering the Local Government Act provisions.
"Section 5.100A of the Local Government Act 1995 prohibits the local government (the council) from giving a gift to a council member, therefore, it would not have been appropriate for the shire to purchase tickets for the gala ball and provide these to councillors."