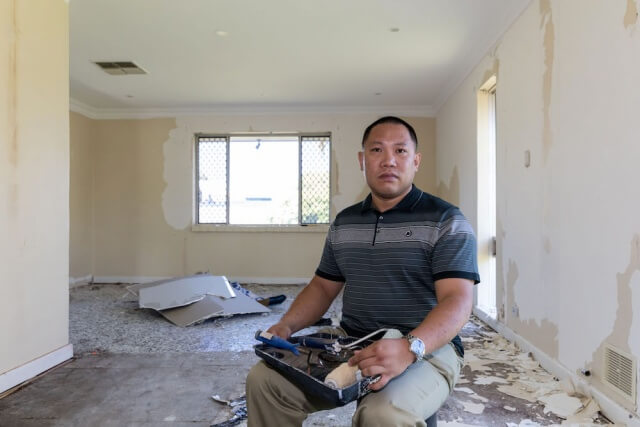 Beckenham landlord Kai Kong has fallen victim to South-East Asian crime gangs based in the eastern states who are renting homes from Perth landlords and turning them into indoor cannabis farms, causing extensive damage.
Mr Kong spoke to The Examiner on Tuesday and said so far he had paied $10,000 in repair costs with the price expected to rise to $20,000.
"I placed an advertisement on Gumtree looking for tenants," he said.
"We were approached by a young Vietnamese couple and they mentioned they were from the eastern states and had children.
"They looked like ordinary people and said two families were going to live on the property and we thought that was good."
Mr Kong said one month after the alleged family moved into Mr Kai's Beckenham property he was contacted by the police who told him the tenants had turned the house into a drug lab.
"We were shocked," he said.
"There was so much damage, the power had been bypassed, there was water on the floors, they had gotten rid of the carpets.
"It was a disaster."
Mr Kong had some advice for Perth landlords, saying they should look into special landlord insurance and be very careful when picking tenants.
"Don't trust phone calls," he said.
"They mean nothing, do a proper background check."
Consumer Protection was urging private landlords to be aware of this recent criminal activity, which was costing property owners tens of thousands of dollars in repair bills.
Acting Commissioner David Hillyard said Mr Kong's story was a word of warning to others.
"With the assistance of the police we've found that we had over 21 homes in the last seven months that have been used as cannabis growing homes and the amount of damage…caused to these homes has been really quite extensive," he said.
"Part of the practise is to gut the home and all the doors come off, the powers by passed, there's water around the place for growing the plants and the damage, which goes through the home, destroys the interior of the home."
Mr Hillyard said it was a difficult situation to protect against but to keep an eye out for things like paying six months worth of rent up front and trying to do deals around paying for electricity.
"My heart goes out to this couple," he said.
"We would recommend that property owners consider taking out landlord insurance and check and make sure the policy covers these types of situations."
Armadale Detective Sergeant Shane Knox said a house needed 21 plants to be declared a trafficker.
A total of 21 homes over the past seven months were rented by members of gangs who took out long term leases using false identification and naming other gang members to provide fake references.
Once the lease had been signed it was alleged they converted the home's interior into a hydroponic cannabis growing system.
Mr Knox said amongst the 21 houses there was an average of up to 180 plants.
WA Police were conducting an ongoing investigation.
They had seized cannabis crops worth $6 million from the properties and estimate the value of stolen power at $1 million.