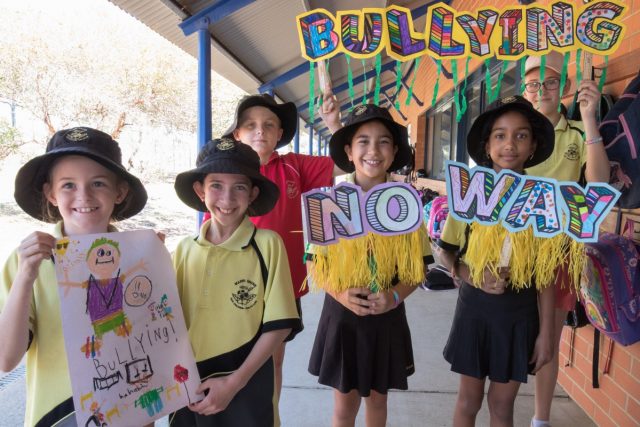 Primary school students came prepared with posters and a loud chant of 'Bullying No Way' as they protested on their oval last Friday. 
The demonstration was a part of Marri Grove Primary's National Day of Action Against Bullying and Violence activities, which also included a whole school assembly and buddy classes with videos and stories about anti-social behaviour. 
Principal Rachel Dowling said students learned a valuable lesson about bullying and how it can hurt others. 
"All too often we see the emotional effects of bullying impacting on students' abilities to learn and to feel safe at school," she said. 
"Our activities have been aimed at highlighting some of the low-key behaviours that students may not necessarily see as bullying including repeatedly laughing at someone or knocking their hat off in the playground." 
Mrs Dowling said staff had also focused on the behaviour of bystanders and how they could either help or hinder bullying behaviours. 
According to statistics one in four Australian students in years four to nine have reported being bullied every few weeks and about one in five young students reported experiencing online bullying in any one year.
Education Minister Sue Ellery said cyber bullying has become a significant issue for young people in the community.
"Research shows that students often tell parents about bullying rather than anyone else, which is why it's so important for parents to be well informed and supported to protect their children," she said.