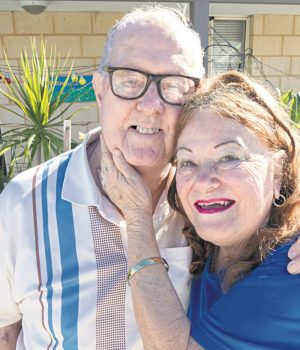 John and Christine Mahony agree trust is the secret to a successful marriage.
The Kelmscott couple celebrated their 60th wedding anniversary in February and after a lifetime together John said the way to make married life work was simple.
"Complete trust," he said.
"You get some trying times but you get over them.
"If you don't have trust you won't get over things."
The couple met in an English dance hall on February 15, 1956, and Mr Mahony said the memory had stayed with him.
"When I saw Christine she had this beautiful silky pink dress on," he said.
"I thought 'I've got to go and dance with that girl' – and that was it."
Christine said she immediately fell for the young naval officer when he was 22 and she was 18.
"I saw this handsome, blonde-haired young man and it was more-or-less love at first sight," she said.
"We saw each other across the room during the song Some Enchanted Evening and it was history after that.
"We had a dance and a few months later we were engaged."
The couple were due to marry that year but because of the Suez Crisis Mr Mahony who was an underwater demolitions expert in the British navy was called to service for two years.
Upon his return the couple married in 1958, had three daughters and moved to Australia in the 1980s.
Mr Mahony said he married the love of his life.
"I never had any doubt when I asked her if she would marry me," he said.