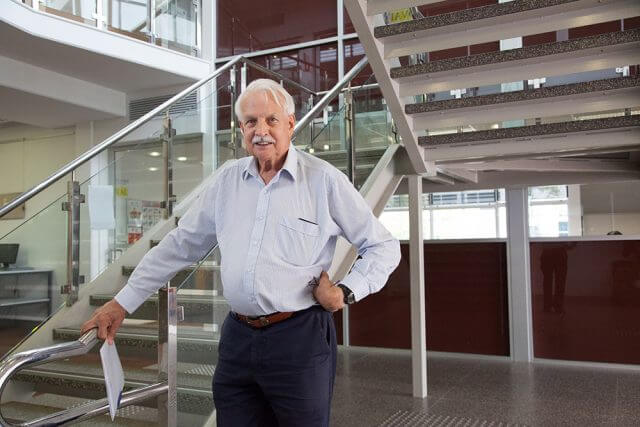 After 60 years in education Rossmoyne Senior High School teacher Bill Hann is retiring at the end of this week and he leaves behind an impressive resume and the title of longest running Education Department employee.
Mr Hann, 80, first started teaching at the old Boulder High School before transferring back to Perth with positions at Belmont, Armadale, Forrest, Applecross and Swanbourne.
He then took a position as deputy principal at the old Kewdale High School followed by administrative roles with the department.
He took a break from the system and became executive director of the Association of Independent Schools before returning to teaching when his wife became deputy principal at Tom Price High School.
Following that he worked at Safety Bay Senior High School, Eastern Goldfields, Wanneroo, Clarkson, Narrogin, Mount Lawley, Shenton College, Churchlands, Carine and finally Rossmoyne.
He said it had been a 'bit of a varied career' but he enjoyed the challenge.
"It's not the easiest job in the world, there's a lot of work to do, despite the holidays there's a lot of preparation, a lot of marking in English particularly," he said.
"I guess you have to love it to a degree to stay that long."
He said there had been huge changes in country teaching since he started at Boulder.
"In my first year you landed in the country there was no accommodation provided, you were given a voucher for 51 kilograms of luggage and that was about it," he said.
"There was no accommodation authority like there is today.
"Kalgoorlie was pretty busy at that time and in fact it was very hard to find accommodation and at one stage two colleagues and myself found ourselves in a condemned hotel.
"So I spent most of my time at the school using bathroom facilities and so forth.
"Classes were also much larger, 45 or so."
He said one of his greatest memories was teaching Australian pianist David Helfgott and being involved in research into developing student writing skills.
"Development of writing abilities has always been an interest of mine and it's not the easiest because writing is a complicated task," he said.
Mr Hann said he and his wife planned to downsize and travel in their retirement.
Ironically, he would also like more time to read.