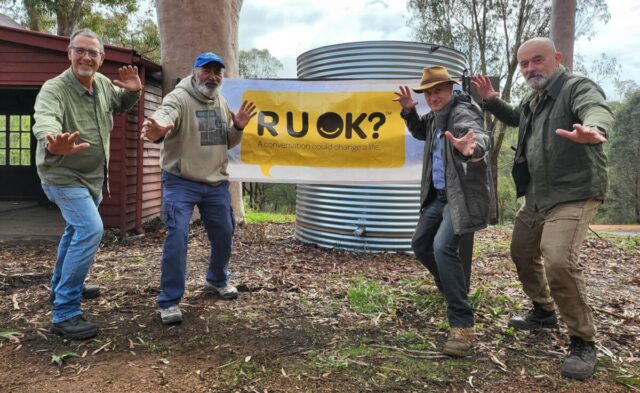 More than 80 green-thumbed locals got their hands dirty in Jarrahdale last Thursday, gathering to plant 1000 seedlings in Jarrahdale at Landcare SJ's 'RUOK? Day' Community Planting and Morning Tea.
A moving Welcome to Country and digeridoo performance by Bindjareb man George Walley opened the event in front of the Mill Manager's house, before volunteers made their way onto the site along Gooralong Brook to begin planting.
Working together to plant seedlings, many hands made light work of the project.
After washing hands, everybody then gathered together for a delicious morning tea as introductions and conversations buzzed under the bright, yellow RUOK? banners.
Landcare SJ Executive Officer Steve McCabe said it was great to see the community come together to help the forest and reinforce the message that we are all 'here to hear.'
"RUOK? Day serves as a powerful reminder that, together, we can make a profound difference in the lives of those who may be facing mental health challenges," he said.
"The sense of togetherness we experienced at the 'RUOK? Day' was remarkable. I couldn't be more delighted to see our community embracing this year's theme of 'I'm here to hear'.
"Today, we showed that simple gestures of kindness can create a ripple effect of positivity in our society."
Landcare SJ successfully secured funding for the 'Restoration of Gooralong Brook Stage 2' project through the 2022 State NRM Program Community Stewardship Grant.
This funding contributes to the removal of invasive black wattle and the revegetation of a 1.2km corridor along Gooralong Brook with native plant species.
Anyone wishing to get involved in the ongoing activities can join the Jarrahdale Heritage Society when they meet at the site every Tuesday morning.
Landcare SJ, with the support of National Trust WA, Shire of Serpentine Jarrahdale, and Jarrahdale Heritage Society, will soon be hosting a Community Weeding Morning – details will be available on the Landcare SJ Website and Facebook page.