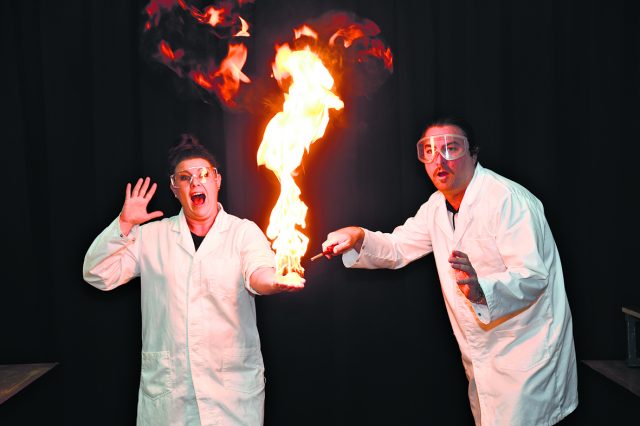 Things are about to get explosive, literally, when Supersonic Science unleash their brand of in-your-face experiments at this year's Canning Show.
The unique act uses fireballs, lightning bolts and more to dazzle audiences, but is just one of a smorgasbord of events and performances set for the weekend.
Celebrating its 124th year this year, the Canning Agricultural, Horticultural and Agricultural Society has gone all-out covering all bases, modernising the idea of the agricultural show to appeal to current tastes.
With numbers regularly topping over 10,000, the Society is constantly looking, and hoping, to put on the best show possible.
"Children and adults can look forward to a full day of hands on activities including CO2Rockets, Supersonic Slime, Bubbleology, Toroidal Vortices and Supersonic Snow," organiser Alesha Rochford said.
"Activities will be on rotation throughout the event and the children will be super excited to hear that they have the opportunity to take their Supersonic Slime home with them for further Non-Newtonian Fluid."
On the other hand, the display of skills put on by the Shaolin Cultural Centre of WA will entertain through a wholly different discipline.
Centre organiser Amy Clare Beales said the visually spectacular martial art was especially available to young practitioners.
"I started doing it because I was beat up when I was young, and I know there's a lot of kids being bullied now, so I can say it's a great way for them to build confidence and an idea of who they are," she said.
"I like to think it's the best way to find your own soul."
Ms Beales has studied Shaolin Kung Fu and Tai Chi in the home of the art in Henan, China, as well as in London and Australia.
"Children can be involved from a young age, and the different styles and disciplines is really good for their confidence, let alone being entertaining," she said.
But still at its core the show, the celebration of the hard work of local farms, markets and the sector as a whole is what bears fruit, literally.
"I'm excited about this, my seventh Canning Show, as we're expanding it to include a number of great new initiatives, events and performances," Society CEO Diane Begg said.
"We're focused on providing entertaining, educational and community-driven experiences to diverse audiences.
"Teaming up with City of Canning to bring a great line-up of music to Saturday's programming, the addition of 'Live At The Canning Show' is an example of the many initiatives to ensure the Show will thrill many generations to come."
The Canning Show runs at Canning Showgrounds this Friday and Saturday November 2 and 3.