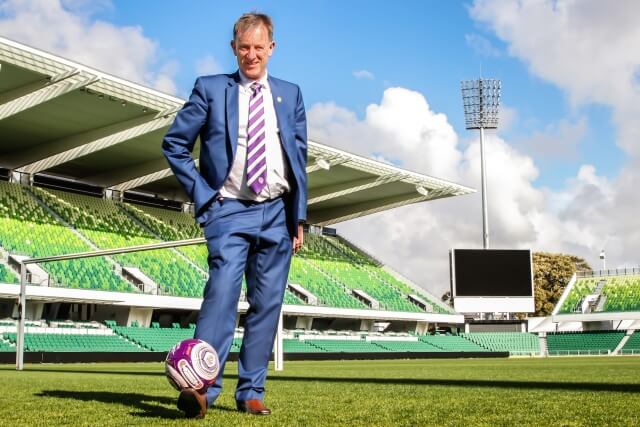 Armadale resident and former president of Glory Shed Supporters Club, Basil Hanna remembers a time when he used to listen to soccer games on the radio and The Shed was rocking.
A supporter of the English Premier League, Mr Hanna moved to Perth some years ago where he quickly became one of Perth Glory's most avid fan and a founding member of The Shed, home to the Glory supporters group.
Mr Hanna said it was originally called 'the hill' as it was located on the hill at the northeast section of what is now nib Stadium.
He said the now covered terrace standing area at the northern end of the ground is still covered in mysticism and beer.
"We created this atmosphere," Mr Hanna said.
"It was rocking, just like a pub in England.
"We sang songs, drank beer and had a laugh.
"Not to discredit the players but sometimes there was more entertainment at The Shed than on the pitch."
20 years later, the crowds have grown, the chants are louder and the fabled status of The Shed continues.
Mr Hanna said he remembered when legendary Australian soccer player Johnny Warren, who was also known as Captain Socceroo visited the grounds.
"He said it was as good as any he's seen in Europe," he said.
"The Shed adds character to the grounds, we never needed any security and anybody could be a member.
"There was a lot of banter but never any violence."
Mr Hanna's support for Perth Glory players and the Socceroos has taken him all over the world, from the Middle East, to South America, Asia and Europe.
He said his first Perth Glory away game to Sydney in Parramatta was one of the club's proudest moments.
"We were in enemy territory and it was pouring with rain," he said with a grin.
"I had my pork pie hat on and it was soaked, but when we scored it was ecstatic.
"It was like being a kid all over again."
Mr Hanna said he has often told the story of Glory fans chanting in the stands when they beat Parramatta Power 1-0 to take home the 2003-04 National Soccer League Grand Final.
He says a less palpable memory was the humiliating defeat to Wollongong in 2001 on penalties.
"We don't talk about that," he said.
"When you say that game, everyone knows what you mean."
Perth Glory drew their first game of the 2016/17 season against Central Coast Mariners three all.
They play Wellington Phoenix on October 16 at nib stadium.